Useful Tips on Writing an Essay Overnight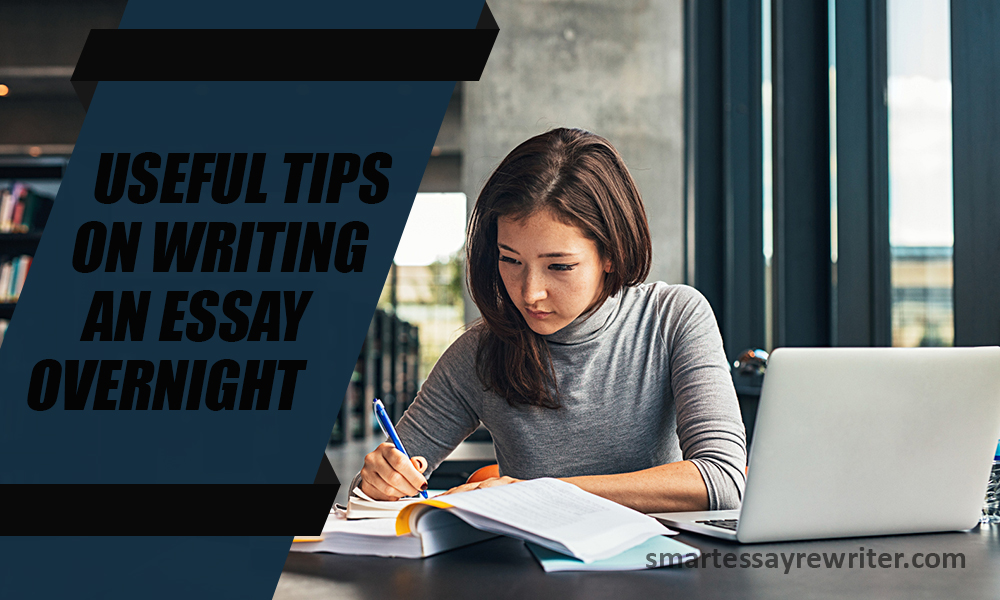 When only one night is left before the deadline, it is most important not to start panicking. Remember that everyone can manage to create a text in a matter of several hours if the approach is chosen correctly. We will help you out with this because we know how to create academic papers quickly but without any loss in quality. Here you will find a bunch of practical advice following which every student will succeed even if there are hardly 12 hours left.
Focus the essay on the aspect about which there is a lot of information available on the web.
It may turn out pretty hard to write a complete research from scratch if a person starts in the dead of night. However, students can always opt for an easier path. Take some time to analyze the subject. It is likely that you can focus the essay on something that was dealt with before by other scientists, and their works in this case will be available on the Internet.
For example, when writing an essay on medicine, try to avoid topics on brand-new technologies and recent inventions because there is so little information about them! Instead opt for taking a historical perspective or analyzing statistics. This ensures a decent amount of published matter to fill the paper with.
Shut out the rest of the world.
A smartphone or a tablet can be very distracting when one needs to concentrate efforts on something important. That is why make sure to turn off the sound on every device in the room. Additionally, do not react to external stimuli. A neighbor listening to one of your favorite songs or watching a hilarious TV series is the worst that can happen when a person is trying to concentrate. Earplugs sound like a nice idea if this is the case.
Writing an essay in the night has at least one advantage, though. The neighbor we mentioned recently will most likely go to bed at around 12 am, and you will be left in piece for about next 7 hours. Even streets become calmer in the night, so maybe it is not so bad to attempt essay writing at this time.
Prepare much coffee and quick snacks.
It may not be as good for the health as a decent meal, but let's be honest: who will go to the kitchen and cook sophisticated dishes when there is an unfinished (or even a hardly started) essay waiting on the laptop? All that is needed is some food to get you through the night and a lot of coffee not to fall asleep in the middle of the work. We recommend to use a thermos for this purpose. Make the coffee beforehand, pour it in a thermos and put it somewhere within arm's reach. Then there is no need to make another portion several times; and, what is really pleasant, the saving beverage stays hot until the morning.
As for the food, we suggest taking something nutritious, such as nuts, vegetables and fruit. Because choosing crisps and cookies instead, students unconsciously decrease their mental efficiency, while the products we recommend will help to boost it.
Do not try to write everything on your own; base the essay on other people's achievements.
Nowadays the easiest way to learn what other scientists have found out so far is to use Google search. Do it before starting to write: it will organize thoughts in the right direction. Get ready for the abundance of information on the topic and the necessity to filter it all. Not everything found this way is actually relevant for your study.
This step is important because it also helps to build the system of references throughout the text. Be extremely careful as nobody is allowed to copy paste everything they lay their eyes on without inserting a proper reference. On the other hand, references almost makes students almighty by giving the precious possibility to cite any work in the world.
Take short breaks to do some physical activity.
Doing a 5-minute sports break, say, every hour will improve efficiency and your general condition. Some may argue with this: staying awake in the night is exhausting per se, then why wear out even more by working physically too? Actually, it has a range of benefits for well-being:
Doing exercises will take any drowsiness away. Just remember a night in a club: everyone is dancing, and nobody wants to sleep, no matter how late it is. When writing a paper overnight, feel free to use the same life hack (by the way, check out more essay writing life hacks here: http://smartessayrewriter.com/blog/10-unexpected-essay-writing-life-hacks).
A break for the sake of physical activity gives "a change of scene." The minute before you were engaged in essay writing, and right now the body has to do squats. It relieves all the tension from the previous mental activity and provides energy to start it anew several minutes later.
It is simply beneficial to the body. Physical training brings only positive results, especially for students who for the most part have a sedentary life style.
Establish strict time frames for each part of the research.
Since you have time only till the morning, it is of the utmost importance to use it efficiently. Limit time spent on each stage of the research and stick with this plan. Specialists from our essay writing service keep saying that an essay is created in this sequence:
Choosing a topic.
Analyzing existing sources and studies.
Creating an outline.
Writing the text itself.
Revising and editing the essay.
Submitting it to the professor.
If you have only one night, it would be quite reasonable to limit the topic choosing part, for example, to 10-15 minutes. Then give approximately 30 minutes to the analysis of Internet sources (unfortunately, there is no time to go to the library, so content yourself with theme websites). An outline will take about 20 more minutes, while revision usually does not last more than half an hour. All the rest will be spent directly on writing – and it is better to calculate how much time you can use on it right away because otherwise the risk not to finish before the morning comes is rather high.
Alternatively, try leaving the editing part to the morning. Having slept at least several hours, the brain is able to analyze information in a different way. This pause itself helps to look at the same text with a fresh mind. It means that editing can become more efficient if it is done later – any professional proofreader can confirm this.
More information on efficient essay writing strategies is available in another post: http://smartessayrewriter.com/blog/essay-writing-strategy-step-by-step
Apply for professional assistance.
If things look black, and the chances of getting the essay ready overnight are naught, do not waste this precious time and ask for professional help straight away (get to know in detail how ordering from us works). As we keep saying, our deadlines start from 12 hours. In practice, it means that even if students came to their senses too late – the night before turning the essay in – it still leaves them with enough time to order the work from our academic experts. In this case you can go to bed and peacefully sleep all night long, while we will be the ones responsible for the paper. The well-thought system of refunds and other guarantees from our company ensures that each client will get quality academic writing services worth paying for. Smart Essay Rewriter is always a good choice when students are unable to succeed with an essay on their own.
Additionally, we offer editing and proofreading services for already written texts. To learn more, visit one of these pages:
Click here to order one of the services right now.