10 Unexpected Essay Writing Life Hacks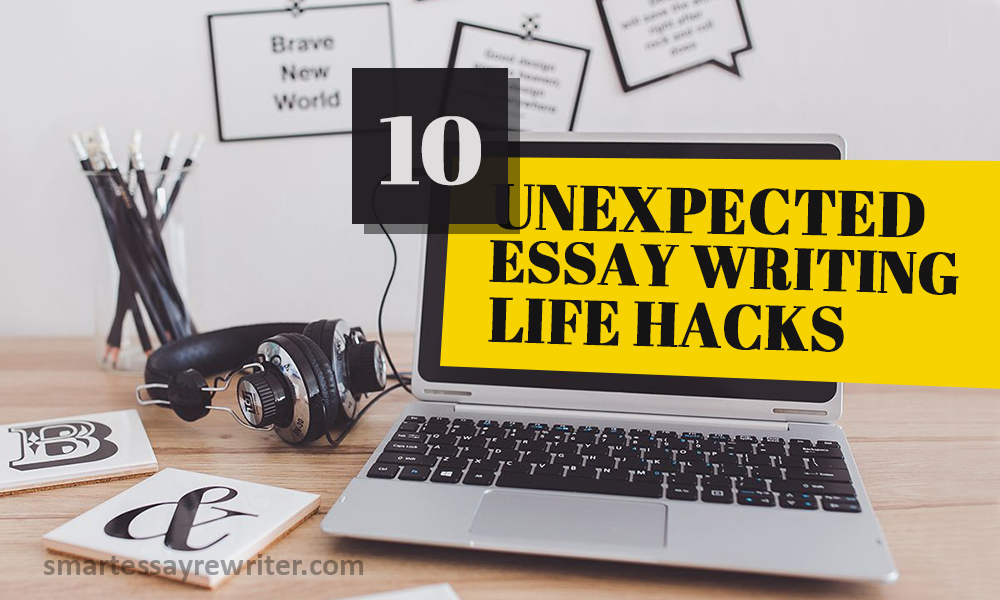 Writer's block is a common problem among students. Unfortunately, this condition is often mixed with panic that emerges the closer the deadline comes. Sometimes finding essay inspiration is not just a matter of knowledge and experience; you have to create the right environment and map out the strategy before commencing work. This post is a complex guide on fighting distractions and creating a productive atmosphere, which will surely help in writing an excellent paper.
1. Start with the right sound environment.
To create the right mood for essay writing, we suggest turning on sounds that help to get organized. Some may argue that additional noise only distracts from writing, but our strategy does not necessarily means listening to something right in the process of writing. To overcome the lack of spirit and energy for the task, turn on anything out of these options just for 5 or 10 minutes directly before starting to work on an essay:
a piece of classical music (it does not matter whether it will be Mozart, Beethoven or Bach; just choose whoever you want taking into account your own preferences);
the sound of rain, sea, river or any other nature sounds;
a song or two of your favorite band.
Those students who do not get distracted easily, may try leaving the moderated sounds on for the whole writing process. It does help some people, but really seldom. The majority will nevertheless feel the urge to turn it off.
2. Begin with the main body, and put off the introduction and the conclusion until later.
An introduction should reflect what the author is going to dwell on in the text. From this standpoint, it becomes reasonable to write it after the main body is finished. Then it is easier to pick out only the vital points from the whole essay, and include them in the introductory part. On the other hand, when you write the introduction first, unexpected surprises may come up during the work on the body: some argumentation may fail, or new facts may arrive. All this means that the introduction must be altered, too. So why do the same job twice?
This very principle applies to essay conclusions (if anyone had the urge to write them in the first place, which we doubt). Here is the writing sequence that we suggest:
the main body,
the conclusion,
the introduction.
3. Create essay maps.
Visualization is a powerful tool of organizing thoughts. Creating rough essay copies is good and helps a lot too, but these drafts mainly contain some information, but they have no role in finding connections between ideas, while essay maps do exactly this.
There are a lot of ways to visualize an essay at the preliminary stage of creating it. The old-fashioned one would be to draw an approximate map on paper. Do it with a pencil and keep an eraser at hand in case anything goes wrong, or more brilliant ideas pop up.
Alternatively, in this age of modern technologies everyone can find an appropriate app to serve this very purpose. Download it on a PC, tablet or smartphone, or go to online resources that help people arrange their ideas. Some websites simply guide students step by step to a complete essay. Even though there are apps and services that do not include much visual information, they all suggest an interesting way of organizing yourself – a perfect variant for those who do not know where to start.
4. Make up a list of questions the essay should answer.
The goal is similar to that of the previous tip, but instead of visualization we suggest creating a list of questions that absolutely have to be answered in the essay. Once the list is ready, rearrange the questions on it to find the best solution for organizing the paper. Then start writing, answering one question in each paragraph.
This technique has much in common with creating a plan, but it helps to be more specific, to write a concise essay. Moreover, it guides you in the right direction straight away by indicating what aspects are vital, what exactly should be mentioned in each part of the paper.
5. Use Wikipedia to build references, not to copy paste information.
At the end of every article on Wikipedia, there is usually a long list of cited sources, which is a holy grail for lazy students. Some of the texts may be in free access on the Internet. It facilitates the task, and everything comes down to finding the full version of the work and borrowing some ideas to include in the essay. But there is even a simpler way. Spot quotations across the Wikipedia article and copy paste them specifying the source given at the end of the page. In this way you technically do not violate the plagiarism rules as the citation is followed by the source.
However, we discourage everyone from using unaltered text directly from Wikipedia. First, this website is not considered reliable in academic circles. Second, any anti-plagiarism software will find word-for-word matches, which will reduce the score in the best case and cause much more problems at worst.
6. Take short breaks to renew energy.
There are several strategies of splitting one long and laborious working process into several stages. The aim of these techniques is to boost energy by taking short breaks after specified periods of productive work (and you are very likely to become productive when sticking with the methods we are talking about).
The Pomodoro management technique is one of the ways to accomplish it. The aim is to break all the work into several steps, with a short 5-minute break after each 25 minutes. Frequent pauses in mental activities are proved to improve people's efficiency as compared to a continuous working process without any breaks at all. However, you should stick with the happy medium because longer breaks will not do any good either. They only distract students from their main task.
To try the Pomodoro technique in practice, download an app or go to the websites that offer such kinds of timers. Our custom writing service suggests opting for physical activity during the breaks. Devoting 5 minutes to exercises gives a sense of diligence in return.
7. Block out notifications from various apps.
It is scientifically proven that various distractions multiply the time we spend on tasks, as compared to a stimulus-free environment. Answering an e-mail or checking out new videos is unacceptable while writing an essay (unless it is time for some rest according to the Pomodoro timer). Phones and laptops that burst with notifications do more harm to the thinking process than anyone could imagine.
Just try to turn off the sound on every device before starting to work on the essay. And do not react to screens that come to life despite of their forced muteness. There will be much more time to check out all the notifications once the essay is finished – and with a clear conscience, indeed.
8. Make use of a thesaurus to enhance the wording.
The majority of text processors offer a thesaurus as a basic function. This reference book comes in handy for looking up synonyms. We have prepared some tips for those who do not know where to start:
Stick with an electronic thesaurus, not a paper version, to save up time.
Use a thesaurus to get rid of tautologies across the text.
Consult it every time a sentence seems awkward to check whether any words can be replaced with other, more appropriate equivalents.
Never opt for the words the meaning of which is unclear to you.
Choose synonyms bearing in mind their stylistic features, not only their meaning.
9. Hear the essay read out loud at the stage of editing.
By the time the essay is written, every student is probably fed up with it, which leaves little energy on rereading the work, spotting imperfections and finally improving your essay. There is a way out if you cannot bear these tiny black letters anymore: make some software read the paper out loud. Google Translate will suit the purpose excellently. Now you can relax, close your eyes and listen carefully to the written text, trying to take it all in. When the automatic voice stammers, open the eyes and correct the spelling mistake. When any thought seems unclear with this particular wording, enhance the latter to reflect the idea in a better way.
Use this method as an alternative to tiresome editing. Although it takes up a little more time than the traditional variant, it brings something new and fresh in the editing routine.
10. Use cloud services to store essays and access them from any place.
Popular wisdom teaches us that it is no good putting all the eggs in one basket. Therefore, storing all the groundwork for the essay as well as its copies on a PC only is probably a bad idea. It is much safer to entrust academic texts to cloud services, especially if you manage to set up synchronization.
The advantages of this move are numerous:
the risk of a cloud service breaking down is many times lower (and is approaching 0% if we are talking about really popular services) than the likelihood of troubles with a hard drive;
online document editors save every correction right away, so nothing will get lost in case of an unexpected shut-down;
cloud-stored documents can be reached from any device that has an Internet connection, which makes it possible to edit the essay on the go and write down every single thought that crops up during the day.
With these life hacks your productivity in essay writing should increase in several times. Maybe, not all of them will work perfectly for every student, but the great variety ensures that everybody will find something to their tastes. For those who do not consider academic papers their cup of tea, we have one more offer in store: services of professional writers. We will make a perfect essay in the shortest term possible; moreover, we are ready to give a generous discount to new customers! Smart Essay Rewriter makes top grades a reality affordable for everyone.