5 Types of Students Who Need a Professional Proofreader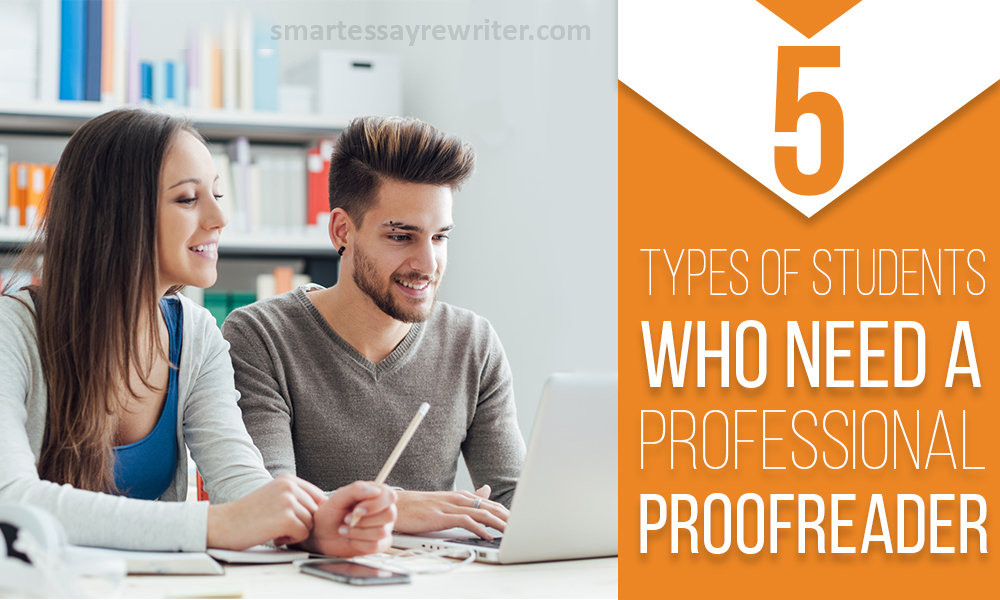 We want to share with you several anonymous confessions our regular clients made. They told us why exactly they needed our proofreading service at one point of their studies or another and in what ways our help brought them closer to a perfect grade. In this post we managed to classify the results of this survey, and we therefore present you with the descriptions of 5 different types of students who actually need a professional proofreader. The article will most likely open your eyes to what editing companies offer their clients. If you recognize yourself in any of these 5 groups, you should check our prices and, after making certain that they are the lowest on the web, place an order for proofreading at our site. Because we can help you when you belong to the next students.
Foreign students whose official language of studies is English
It is unfair when foreigners have to meet the same college essay writing requirements as native speaking students. Naturally, they can process this load of work more slowly, and one have to acknowledge that English grammar mistakes will inevitably crop up here and there. It does not mean the person studies badly; having difficulties with the language does not imply being a bad specialist in a certain field.
We are willing to help foreigners by means of undertaking their proofreading concerns. Thus, you should write your essays and papers, paying attention to their structure and contents, and then send them to our professionals. We will analyze your work and get rid of every mistake that you could not have spotted by yourself. It is no secret that English grammar occasionally perplexes even native speaking linguists, let alone foreigners with majors that are far from humanities or at least languages.
Students who leave their assignments to the last moment and then have no time left for proper editing and proofreading
Our company is an earthly paradise for procrastinators. Our proofreading deadlines start from 12 hours, which means we can improve your essay overnight: if a sleepless night is something you are unwilling to go through for the sake of a good grade. You can place an order at any time of day and night, and we will start working on it immediately after receiving your payment. Our proofreaders work night shifts, which ensures that you will always get your papers on time when choosing our company.
Please, pay attention that the countdown starts after you paid for the order, not after you placed it. If you want to get your essay at the right time, do not delay the payment. If you need a consultation before placing the order, you can turn to our support managers, who too work overnight. Our 24/7 working hours enable us lend you a helping hand right when you need it.
Students with a technical mindset who find it hard to learn English grammar and even harder to use it in practice
It applies to all non-humanities students, such as mathematicians, physicists, chemists and so on. These people find it easier to deal with formulas and tangibles, not abstract grammar rules, which in addition to all have a tremendous lot of exceptions. What we offer is a team of hand-picked professional proofreaders who can solve grammar issues in your writing in to time.
We will deal with the slightest blunders typical for academic writing, and we will also eliminate every misprint that got into your essay accidentally: not because you do not know the rules, but because you were too busy to double-check. With Smart Essay Rewriter you will not have to worry about grammar any more, and you will be able to devote more time to your actual major.
Students who got tired of numerous revisions and long for the moment their works are accepted from the word go
Let us describe you one of the most distressing situations you can come across at college. You worked hard on yet another essay, you wrote and rewrote it several times to achieve the best wording, but after you had submitted your brainchild to the professor, the latter found a lot of mistakes that he wants corrected. Receiving a paper back for revision becomes a can of worms for you because the first revision is not always the last one. Some professors seem to find it entertaining to ask for numerous amendments, as if they do not really know for themselves what they want to get.
However, when an essay is perfect in all aspects straight away, even the most meticulous professor would not be able to find any faults with it. That is what our company offers: we proofread your works in a way that there is no room for improvement. Your professor will have nothing left than to accept what you handed in and give you a high grade for the piece of writing. That is, if you managed to specify all the details he wanted from you while filling out the order form. Your clear instructions for our proofreaders are paramount in this case.
Students who want to devote more time to their hobbies and friends but find it difficult since writing assignments seem endless
If this is your problem, Smart Essay Rewriter has a universal solution to it. It does not matter for us why exactly you need more time for yourself: whether you thirst for hanging out with friends or attending dancing or drama classes. What we know is how to make it happen. From this moment on, we will throw you a lifeline whenever you feel lack of time. With our proofreading services, you will be able to devote yourself to all the things that were unreachable for you while you spent your nights plugging away at your essays. The strategy is simple:
You write a raw draft of your future essay, indicating the main thoughts and ideas you want to develop in it.
You write down all the nuances your professor wants to see in the final essay.
You submit your order to us, including the rough copy and the guidelines from the previous items.
You wait until we improve your writing, filling your spare time with whatever you want.
You download the essay when the deadline comes and turn it in. And that is all!
We guarantee the quality higher than if you did the work by yourself. And the prices we have make our services the most affordable on the Internet.
So, our professional proofreading will come in handy if you belong to one of these 5 groups of students: foreigners, procrastinators, non-humanities students, those with demanding professors and those who suffer from lack of time. We can solve the problems of all the above-mentioned people, giving you a helping hand with proofreading at the times when you need it most. Our services are what you can call affordable even from a student's point of view. Do not hesitate and become one of our clients right now, and we will give you 20% off for your first order! You will find more details about the discount on the main page of our rewriting and writing services.