How to Order Excellent Proofreading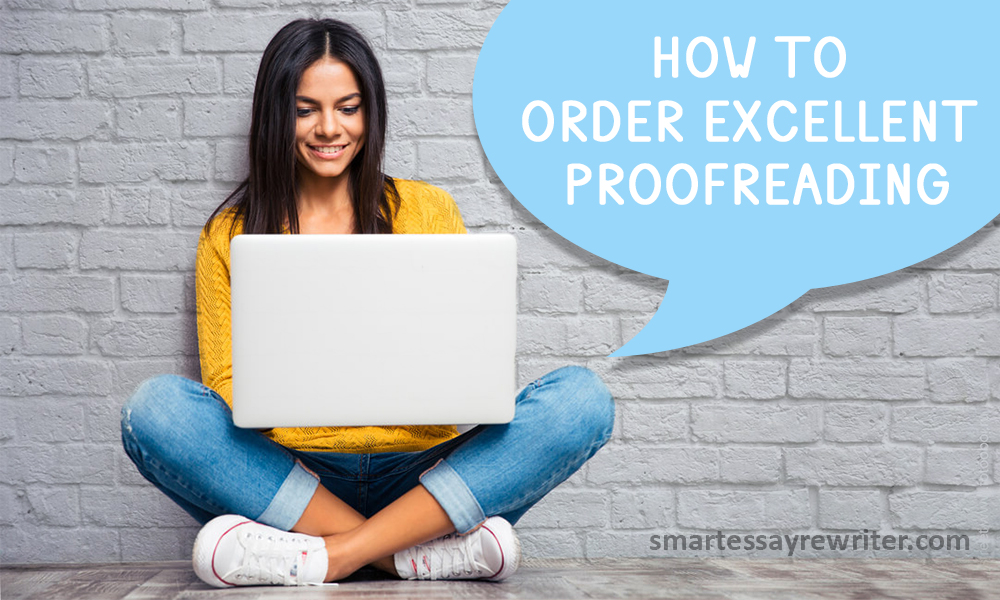 What do you have in mind when talking about quality proofreading? Is it the number of corrected mistakes or the time which was needed to finish the task? Our college essay writers who work on your academic assignments claim that this notion includes a lot of aspects that show how a company renders its services to the clients. Here we will give you a set of indicators to make sure that the proofreading you consider ordering will be really of high quality. We will also show how Smart Essay Rewriter adheres to these principles.
Find out the cost straight away
You are probably sure that brilliant proofreading must cost a lot, and it will be beyond the means of ordinary students. In reality it depends on the way a company calculates its prices. If a service has a lot of customers, the job is going on day and night, and a lot of people are involved in it, the income will be a decent one, and there will be no need to raise prices. This is the situation at Smart Essay Rewriter. The constant flow of customers allows us to keep the rates low, so that more and more students can afford our services.
But we wanted to mention another thing. If you are leading a hunt for the best proofreading company, one of your top requirements should be a transparent price policy. It is easy to trick clients into ordering a service by promising low costs and the absence of additional taxes and fees, but you should not believe such promises unless they are substantiated with a price list accessible for everyone. Once a company starts avoiding to mention payment related issues, it is a sign that something is corrupt in their charging system.
If you want to get to know our proofreading rates, you are welcome to get familiar with them right on our website. There is no need to download documents on your PC or signing up first to access information about our prices. You simply have to enter your order details, and the cost will be shown automatically, even without you placing an order.
Read testimonials from previous customers
Testimonials are a powerful tool that can help you choose between heaps of online editing services on the web. But it is true only if you have the right approach to them. You should not believe every single word written in testimonials, and it must put you on your guard if each review you come across is a 5-star one.
You can be sure that our company offers top-class proofreading because we publish clients' reviews in the public domain. Anyone can access and read them, and only then decide whether or not they want to deal with our services. We admit that not each testimonial found there is flattering for our professionals, but we assure you that we learn from our mistakes and try to make our proofreading better and better with each order.
Discuss ambiguous issues with support managers
If a company is aimed at delivering quality works to their clients, they will be ready to negotiate certain moments with you before making their own decisions. This is where template-based style of proofreading delivers less quality results that the one based on a personal approach.
When it comes to dealing with our company, we strongly recommend you turning to our support managers whenever you have questions or problems regarding our services. It is always easier to prevent a conflict, and leave both sides satisfied than have an undesirable for both parties refund inquiry afterwards.
Ascertain if the company works with your custom instructions
This point is necessary because different establishments (and even different professors inside one establishment) have diverse essay writing requirements. So it is reasonable to assume that ready-made essays will not do for a perfect grade. The solution we offer is not innovative, but somehow many companies fail to implement it in their routine. Smart Essay Rewriter accepts your personal requirements for written works, and we strictly adhere to them in the process of proofreading. When you know that such client-oriented services exist, you will not be content with less than that, will you?
Once you have found out that you can send in your personal requirements, think them through very carefully. A company that promises to do everything as you prescribe will not be the one to blame in case you mess up with your instructions. Reread them several times before submitting, and if you find a fault afterwards, contact managers immediately. There still may be some time to cope with the misunderstanding.
Make sure you will get a refund for a low-quality job
If after following all these steps you got great proofreading services you needed, we are only glad for you. However, sometimes even all the efforts on your side are not enough to receive a quality job. If the blame lies completely on the company of your choice, then you should request a refund from them. That is why it is important to check the money-back conditions before placing your order. If you do it too late, you may fail to meet one of the conditions, and the company may leave you with nothing.
The first thing we claim is that refunds are stipulated by the terms and conditions you accept when sending your work to Smart Essay Rewriter. It means that your rights are protected, and any negligence on the part of our company will lead to a possible refund. Then, we want you to know in what exact cases you can claim it:
if we fail to deliver your work on time;
if you find out that your essay does not pass plagiarism tests;
if you ask for a refund within 2 weeks since your order got delivered.
These terms are pretty easy to remember, and you will not find any pitfalls there. If you need complete information, go to our Terms of Use page, which explains not only the refund cases, but may be also useful for every new customer, since it has the most profound information on our principles of work. If you have any questions as for the wording, feel free to ask our managers what we meant by that. The most important thing to remember here is that our conditions help us deliver the best proofreading services, so we expect that not only the members of our staff, but our clients too will respect them.
This post proves one more time that proofreading and editing services from Smart Essay Rewriter correspond to all the criteria of quality services you can possibly think of. We try to find personal solutions for each one of our clients, and if you judge the result of our work by testimonials, so far we have been able to succeed. With our company you will always get only excellent proofreading, in all respects. Do not hesitate to become one of our customers, because we have a pleasant discount for newcomers!