Rewriting Essays Is As Easy As Pie With Smart Essay Rewriter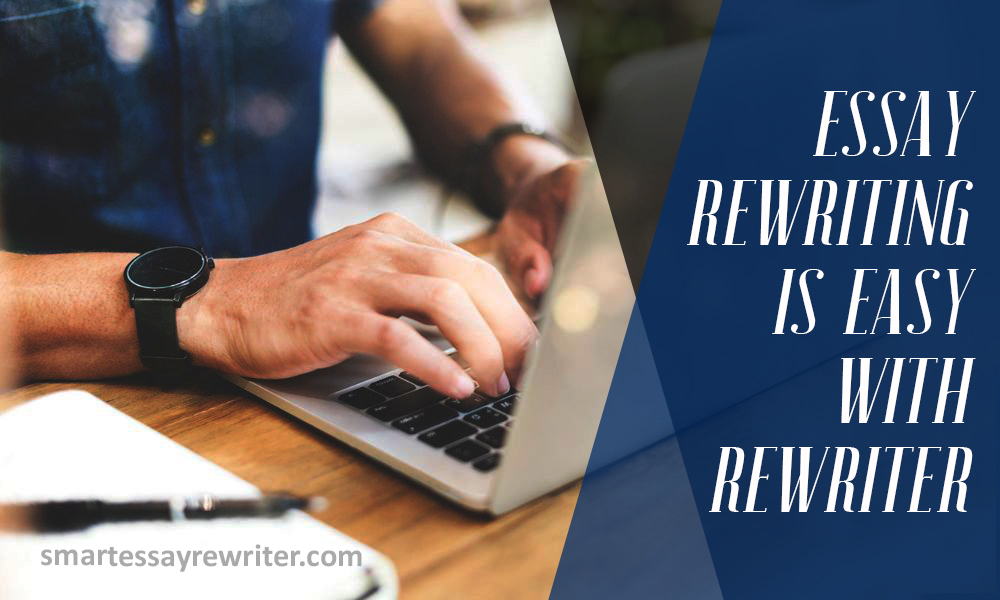 Is there any person in the world who likes creating essays? Well, probably yes. But there is hardly anyone who likes rewriting essays. First of all, it is not very pleasant to admit the presence of errors in your paper. Second of all, it is a really hard work to fix "ill" fragments and rewrite a text in a proper way. Our expert team is here to save you. Use our professional services on proofreading, editing and rewriting and get amazing high quality results. Now we are going to give you some recommendations on essay creation that will help you to write better and avoid this not very pleasant process of paper rewriting.
Recommendations on style
Do not overuse complex words and word combinations. It is strongly recommended to escape from using slang words and shortened forms of words. In general, try to create short clear sentences and time to time "dilute" them with longer ones. Your aim is to present the essence clearly and accurately, so that your reader could without difficulties follow the meaning of your paper and not be distracted by other considerations that have no relation to the paper subject.
Advice on formatting
There is no need to tell that grammar and spelling mistakes are not acceptable in any kind of written paper. So do your best to eliminate them. Or ask for professional help, which you can get on our professional essay writer website Smart Essay Rewriter. Besides, you need to remember that any paper is written not for yourself, but for other person, that is why punctuation, dividing into logical fragments (we mean sentences and paragraphs), as well as general structure should help the reader and contribute to better text understanding.
Avoid colloquial elements
escape from using reductions, such as "can't, we're, it's" and so on, always prefer their full form, i.e. "do not, they are, it is" and so on;
slang and colloquialisms are forbidden as well, for example "kid, awesome, cool" and others;
write on the merits, speak to the subject and do not divagate;
it is strongly recommended not to abuse phrasal verbs, such as "make up, figure out, step aside" and so on, instead prefer synonyms that consist of one word;
too general words will not do good to your paper, you need to express your thoughts clearly and precisely;
avoid overusing of brackets and other types of punctuation marks.
Try to stay within the frames of academic style of writing:
forget about "I, me, my" and so on, it is better not to use too much and too often personal pronouns;
remember that too strong judgments and generalizations are better to be avoided;
support any information you present with quotations and data with giving references to the sources (http://smartessayrewriter.com/blog/where-to-find-arguments-for-your-essay);
also remember that gender equality in English is very essential, for example, when you want to tell something about a human, it would be better to use word "person" and not "man". If there is such an opportunity, it is better to use subject in its plural form and it would be better to say not "he / she", use "they" instead;
also, if possible, use active voice, do not make sentences to complex. For example, instead of "Oceans are polluted by the results of human activity" it would be better to write "The results of human activity pollute oceans".
Try to make your text more objective:
make impersonal constructions loyal helper of your paper, for example, "It is considered that...", "It cannot be argued that..." and others;
passive voice is your choice when there is no need to point at the performer of an action, for example, "Test has been written in thirty minutes";
non-categorical verbs are also good friends of any essay, they are "presume, guess, suppose";
do you want to express your attitude to an issue, and at the same time you want to stay neutral? If yes, we advise to use adverbs, for example, "probably, apparently, likely" and others;
modal verbs will help you not to sound and seem too categorical;
you already know that generalization is not good for your paper, so prefer qualifying adverbs, for example, "a minority of, a few, some, many" and so on.
Paragraphs
One paragraph as a rule concerns one of the main idea aspects. Two paragraphs can consider different aspects and be interrelated in the same time. For example, cause and consequence, positive and negative sides, situation before and after and so on. It also happens that the initial sentence serves as introductory. It means that it explains what this very paragraph is going to tell about.
Additionally in this section you can read:
Proofreading Website Is The Way To High Quality Text
Thesis Rewriter Service Is Your Way To Perfect Paper
Revision Paper Service Guarantees To Improve Paper Quality
The Most Reliable English Proofreading Service
Online Paper Editing Is Professional Look At Academic Paper
Coherence
Sometimes it causes difficulties at an author to proceed logically from one text fragment to another. So if you want to preserve the coherence of a text it is necessary to direct, to give certain signals and signs to the readers. Introductory and linking words that perform different functions can help you here. For example:
words to show contradistinction: but, however, yet;
example: for example, that is;
supplement: moreover, similarly, furthermore, additionally;
conclusion: therefore, consequently, as a result, thus;
enumeration: then, after that, ultimately.
Quotations and references:
When you quote a book or any other written source or you give information in your own words, it is necessary to mention the name of the author and the date of publication. You can do it in such a way: "Basing on Johns' research (2005), competently built essay is a kind of a challenge, difficult one but possible". Or another way: "Building of a competent essay is a kind of a challenge, difficult but possible (Johns 2005)".
Check and editing
It is extremely important to reread your text for a couple of times, even if you think there is not much to fix.  If at seems to you that you are not much attentive now (of course, it is really hard to search for errors in a text, especially in your own), let someone else look at your text. Our advice is to show it to professional essay editors. For this purpose you may use our essay rewriting online service. Our specialists will find and fix each mistake in your paper. Such a professional help allows to detect a significant percentage of poorly built sentences, as well as a lot of grammar, spelling and logic mistakes. Visit our website to get more information about us and services we provide.
Lifehack: You can read out loud your essay, record it to the recording device and listen to it. Very often in such a way it is easier to find inconsistency of grammatical structures or inconsistencies in the logical way of thoughts presentation. For more lifehacks visit our website and read "10 unexpected essay writing life hacks" essay (http://smartessayrewriter.com/blog/10-unexpected-essay-writing-life-hacks) written by our experts.
It is obligatory to use orthography check in a text editor. But do not forget that any text should be proofread by a real person. For example, Word sometimes misses quite big and serious errors that can completely spoil impression from your written work. If you have doubts about something, it would be better to use dictionary or expert assistance of the specialists in this field.
One more useful method: before finishing your work, put it aside for a couple of hours or even a day, so that later you could return and look at it with a fresh eye. This is another reason why it is better to start writing in advance. Thus you will have enough time to change the points that require corrections.
Read other popular posts:
Smartessayrewriter Is The Best Thesis Proofreading Service
Interesting Facts About a Professional Proofreader
Can You Proofread My Paper? Rely On Us!