Where to Find Arguments for Your Essay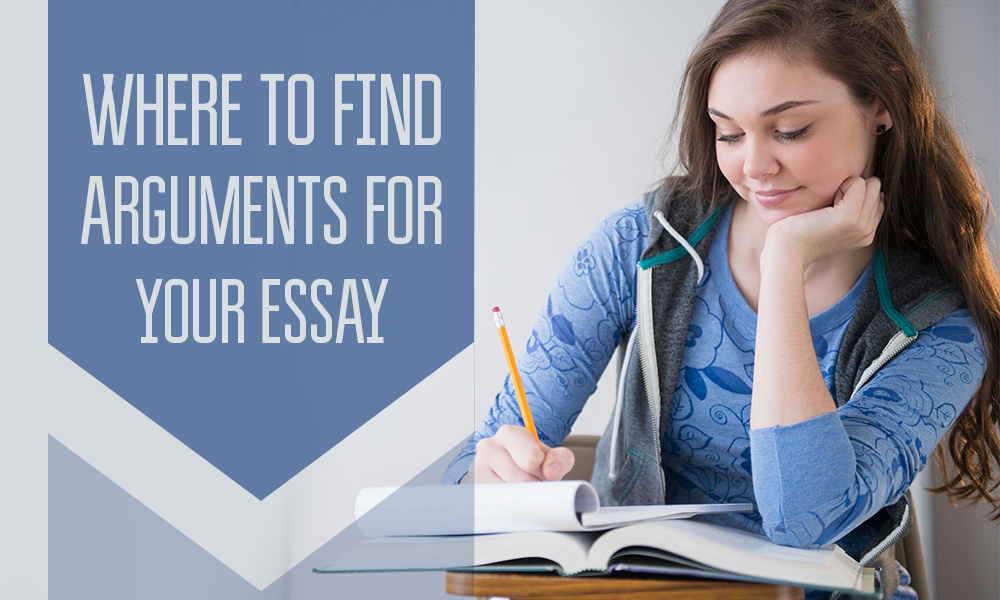 When writing for college, undergraduates should think a lot about organizing their train of thoughts. In order to produce powerful arguments for an essay, a student had better read a lot, be curious about everything, not only his major, and be good at establishing associations. Those who can master this have no troubles finding appropriate arguments for essays – it simply will not be a problem anymore. But for students who experience difficulties with it, our college paper writing service has in store this post, which enumerates useful sources of arguments. These tips will come in handy for writing argumentative and persuasive essays, and maybe they will even teach our readers how to become a skillful debater. So, let's start.
Analyze other scientific works
It is unlikely that your sphere of academic interest is virgin in terms of researches conducted. For the most part of scientific branches, there exist a considerable amount of information on previous works that can shed a lot of light on what you are working on right now. Do not disregard these treasures – learn the rules of academic quotations, and feel free to exploit the groundwork of other scientific minds.
The best strategy here would be to analyze previous studies, and then produce a generalized opinion on the topic. It naturally should be based on what you have read, but nobody will turn down a personal standpoint. Maybe later on other students will take exactly your work as an example to build their own academic essays.
Find out more about conducted experiments
As Immanuel Kant said, "Experience without theory is blind, but theory without experience is mere intellectual play." In order not to appear disdainful, right after providing the readers with theoretical knowledge from the previous paragraph, move on to the results of actual experiments conducted in your sphere of interest. This is going to be absorbing reading as long as you enjoy studying the subject at all. Experiments are usually the most interesting part of any science, so we are sure that everybody will like this kind of information search.
We suggest including found details in the part of an essay that gives examples. Whatever you find out, make sure to present it in the right way that illustrates your point of view.
Make references to statistical data
Nobody can argue with statistics, that is why referring to it in academic essays is always a winning strategy. Of course, do not mention any statistics from unreliable Internet resources, but if proper references can be given, and the study was really solid, then why not? Whatever you claim in an essay, this point of view will sound clearer and more reliable when substantiated with any kind of statistical information.
These are sources of statistical data to use in academic works:
public surveys, including regional and worldwide ones;

statistics derived from practical experiments in the field;

purely numerical data that illustrates certain aspects of objective reality.
Whatever type of statistics you choose, do not forget to present findings using grammatically correct language. That is where our company can help, too. Start with getting familiar with our post that provides the readers with the list of popular grammar mistakes. Knowing what mistakes other students make gives an advantage and boosts the chances of avoiding them in texts.
Remember history
Some people believe that history repeats itself. Whether it is true or not, one thing is for sure: by examining the history of humanity, everyone will find a lot of valid arguments for academic essays. Different historic events have their preconditions and reasons, and by analyzing them, both undergraduates and graduates can produce hundreds of practical arguments for various academic topics.
Thus, political leaders may help out with an essay on leadership, while the history of world wars may assist in explaining why diplomacy matters. There are two ways of organizing essay arguments:
Find a fact or an event that illustrates a particular point of view.

Deliver proof by contradiction.
Somehow students tend to forget that there is this second method, that is why we find it necessary to remind our readers of it. It enlarges possibilities of organizing an essay.
Quote famous people
This is the strategy we resorted to when mentioning a quote by Immanuel Kant. Quotations seem to revive writing a bit, making it more comprehensible and portraying you as the author in the most favorable light. A person who remembers what different writers, politicians and philosophers used to say must be rather a well-rounded individual! But in reality all that is needed is a website with quotation search, and it will deliver a bunch of famous people's phrases on various topics.
When including a quote in an essay, do not forget to mention its author as well. You do it for ethical reasons and also to avoid accusations of plagiarism. If the author of a quote is unknown, mention it as well.
Recall several examples from real life
This advice is applicable only to papers dealing with personal emotions and experiences, but who says that people not need any arguments for those? Every person on earth is a unique individual, and it is important to comprehend that what everybody has learnt in live matters. If this is analyzed philosophically, of course. Nobody wants to hear just another story from life that has nothing to do with the subject of an essay.
Here is what to do. Interweave the essay with the analysis of suitable life occurrences to produce powerful emotional arguments. For example, when writing a work on friendship, remember some ups and downs that you have been through with a friend of yours; or when working on the topic of adopted children, tell about an interview with one. Most important of all, make sure to include this kind of information only in essays where it will be appropriate. Nobody will benefit from talking about urgent social issues in a paper on physics.
If you still have troubles finding the right arguments for an essay, our writing services can lend a helping hand. We have a team of professional writers who always come up with brilliant ideas for argumentative essays as well as other ones. When placing an order at Smart Essay Rewriter, there is no need to worry anymore about the content of the academic work because we will take charge of everything. Our fair pricing policy ensures that the services are affordable for students around the globe. Place the first order to see for yourself.