Interesting Facts About a Professional Proofreader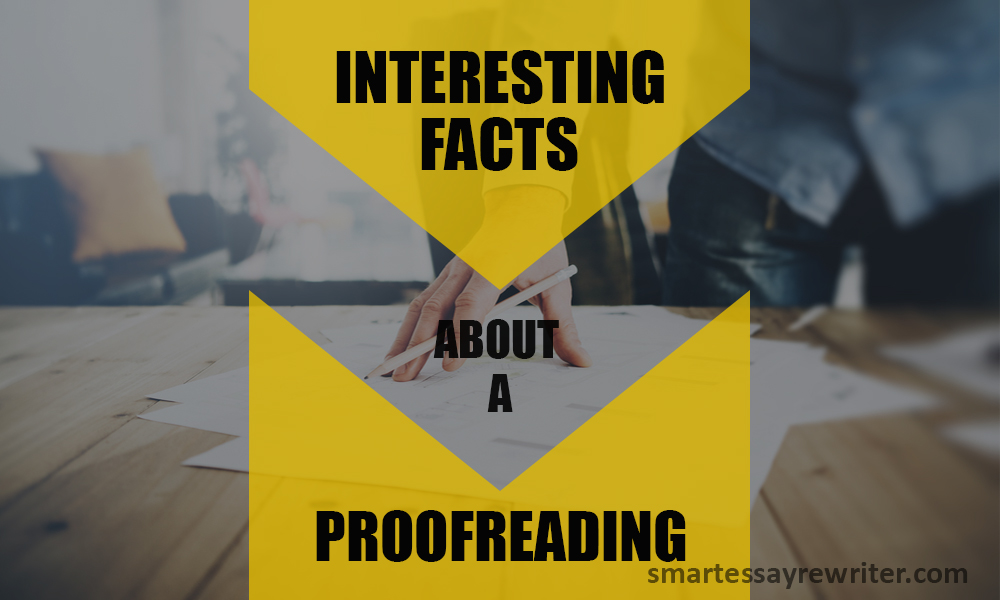 We talk a lot about the services we offer our clients, but we rarely mention the people who make it all possible. Our proofreaders are not faultless machines that are aimed at delivering texts 24/7. They are people with their own talents and imperfections, and you might find it interesting to learn more about this profession. Who are they, experts at finding other people's mistakes and correcting them? This post will reveal 7 features of a professional proof reader, so get ready for some inside goodies.
Proofreaders notice mistakes in everyday life, and it annoys them
Whereas an ordinary person has no negative feelings towards a sign or an advertisement with grammar mistakes in it, a proofreader will go crazy when noticing such a disgrace. Everything in their world should be perfect, and not only at work.
People whose mission is improving written texts get extremely annoyed when others neglect the need to revise their writing before bringing it to public places. This sounds fair, if you come to think about it. The profession of a proofreader was created to make this world more grammatical; moreover, modern proofreading rates are quite affordable to keep mistakes away from our everyday life.
Proofreaders hate to work around the clock, and they are not huge fans of night shifts
Although you know that Smart Essay Rewriter accepts orders and works on them 24/7, the majority of our staff members would prefer to work normal hours. Unfortunately, their efficiency tends to drop during the night time, that is why you will find that urgent orders (that start from 12 hours) are more expensive on the website. It is likely that a professional will have to work additional night hours to be on time, which is the reason for the price rise. In order to save up some money on proofreading services, our clients can opt for remoter deadlines that are available for choice.
One cannot become a professional proofreader without an academic degree
This is a contradictory statement, but this is exactly what we believe in here, at Smart Essay Rewriter. Since the most part of our orders are academic assignments, a person who performs them must be well familiar with the pitfalls of academic writing. Only somebody with a degree is therefore eligible for the position.
Our HR managers thoroughly check each candidate to offer the work only to those who have necessary skills and a certificate. While many countries do not support child labor, we do not support student labor in this position. It is vital to impose the responsibility on someone who is ready in all respects.
To boost productivity, proofreaders find it important to learn how to touch type
Touch typing is an essential skill of professional writers and proofreaders who are willing to become more efficient at work. Various studies show that looking at the keyboard while typing distracts the person in front of the monitor and leads to mistakes and longer thinking time.
So, here is a piece of advice for freshmen: learn to touch type in your first year at college. This skill will save a lot of time during the following studying years as well as later on when you will find a job. Taking into account how everything is connected with computers nowadays, the chances that touch typing will turn out useful are higher than one could imagine.
Proofreaders are not necessarily good at writing from scratch
A paper proofreader and a paper writer have very different goals, so it is no wonder that a person good at proofreading sometimes cannot create a decent essay on his own. This is not a general rule, but there are proofreaders who are extremely fluent in English, know grammar and all the requirements for academic writing inside out, but at the same time they find it difficult to write a work from scratch.
The thing is that one needs a different set of skills to write papers and to improve them. And a writer is a more universal specialist in the context of academia. He is able to do all these things:
to read and analyze large amounts of information in short terms;
to organize his narrative and/or arguments;
to think about the structure and references;
to revise the written text and improve its grammar.
As you see, with the assistance of a professional writer one does not need a proofreader anymore. Consequently, essay writing services are always more expensive that the proofreading ones. However, once the essay is written, the necessity to read, analyze and organize falls away. Then the focus must be made on possible ameliorations: in terms of grammar, spelling, word choice and formatting. So even if a proofreader is not a good writer, he still can be a matchless expert at dealing with your mistakes.
We have both types of professionals: the ones who can cope with proofreading only and those who combine two talents in one – writing and proofreading. This variety makes it always possible for our company to find an appropriate specialist to fulfil your present academic needs.
Non-native speakers cannot reach the heights of natives
If a company says that your proofreader online comes from a country where English is not an official language, expect poorer quality than that delivered by native speakers. Saying this, we do not claim that every native speaker is an inherent proofreader, but we do suppose that a person brought up in an English speaking environment knows much more about language peculiarities than somebody who studied the language at college. The slightest nuances that may escape a non-native speaker will never get away from an American or an Englishman.
Please note that proofreaders from Smart Essay Rewriter are strictly native speaking. We have it as part of our policy to hire only this kind of professionals. Having said that, we leave it up to you to decide whom to trust – a native speaker or not.
Proofreaders may use additional software for detecting mistakes, but they never rely on it completely
Human factor continues playing an important role in text writing, and no modern program is able to substitute a human being completely in position of a proofreader. The same is true for writers, translators and other experts who work with languages. Therefore, we do not encourage the use of automatic translation programs as well as online grammar checkers.
There are some exceptions, though. We find it OK when a proofreader uses checking software for a text with numerous mistakes in it. This approach reduces the time spent on the task, but the professional must let the program find errors, whereas only he himself is allowed to make a decision how to correct them. Machines are far from perfect in improving human language; they can only assist us in spotting them. By the way, after that it is absolutely necessary to check the text once again by yourself because even here a program does not give a 100% guarantee.
We hope you found these facts about professional proofreaders interesting and even useful. For those who need proofreading services right now, we remind that our proofreading paper site offers them at quite reasonable prices, affordable to students. Also check out our discounts that make the offer even more appealing, and stop turning in essays and papers with mistakes in them.
Professional essay editing and proof reading services share the key moments of writing good texts
The way that teachers and scientists use when they want to bring new information was laid by Socrates, when he asked his interlocutor the consecutive questions, forcing him or her to formulate answers. Start with the fact that the reader already knows (information for a wide range of readers or the material covered) and gradually move to new facts and terms. Each sentence should have a "hook" for the next one.
Even if you are writing a scientific article, it makes sense to refer to the classical laws of drama. Do not rush to give up. The exposition, the set-up, the development of the action, the сulmination and the outcome can beautify even an explanatory note, a culinary recipe and a statement to the police as well as any essay or other scientific work.
"The best time to start writing an article is when you've finished writing it for yourself. Only after that you will understand what you really want to say." Mark Twain
Write professionally. Proofreaders know how to overcome procrastination, perfectionism and creative crises.
General advice on the organization of productive work, which give time management experts and best essay editor from smartessayrewriter.com is fully true for writing. For example, it is useful to find your mode. According to an experiment conducted at the University of Toronto, the most productive rhythm is 52 minutes of work, and then a 17-minute break. We do not advise you to set the stopwatch to fit exactly in these standards. However, the benefit of regular breaks is confirmed by all researchers. On the other hand, if you are overwhelmed by inspiration, you do not need to artificially interrupt the productive state.
Do not hang on every moment that requires clarification of information until the main core is ready. Do not forget that you have the best chance to stop worrying and have perfect text with the help of professional editors.
Now you know almost everything about the proofreading and proofreaders, so do not hesitate to contact the reliable and affordable smart essay rewriter service. Your text will have the idea you want to share but will have no mistakes at the same time. If you are tired of constant rewritings or constant revisions, you are short of time and do not know how to perform the task on time, delegate it to the experts.