What You Should Know About Our Thesis Editing Service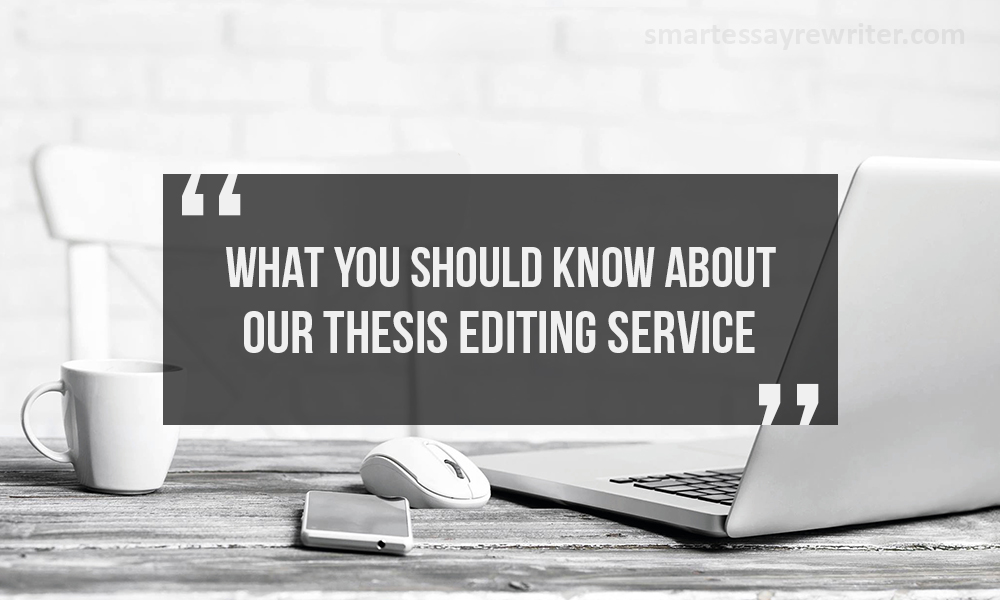 Many thesis editing services have hidden information that their clients do not know before actually ordering. When these details emerge, the service may leave you deceived and unsatisfied. To prevent this situation from happening at our company, we have prepared this article that will tell you exactly what to expect from our thesis editing. This information will be extremely useful for our new customers, but even regular ones may find something interesting for themselves. Keep reading to get to know vital details that will clear up any doubts and allow you to place an order light-heartedly.
You pay for the exact size of your document. While other companies try to speculate in difference between the number of pages, counting them typed in smaller and bigger fonts or with single and double spacing, Smart Essay Rewriter asks you to pay fairly. We take into account not only the quantity of pages, but also the number of words. Thus, one formal page contains 275 words with double spacing; therefore, our price will be calculated according to this value, no matter what font you choose for your thesis. The other thing is that the font may be changed in the process of editing because, as you already know, not all of them suit academic purposes. But you will not pay for these changes separately; the cost you pay right away is the only and the final cost for your order.
Your incorrect payments will be returned. Do not think that our primary goal is to receive as much money as possible. We want to get only the money that we actually earned by providing you with quality editing services. If you accidentally sent us a wrong payment, for example:
submitted wrong order details and because of that paid not the amount you should have,

happened to pay twice for the same order,

or got into any other unpleasant payment-related situation,
do not hesitate to contact our support managers. And we recommend you to do it as quickly as possible because some payments have limited time in which they can be returned to you. After clarifying the issue, we will send you back the necessary sum, and you will be able to continue using our services. As you see, our payment policy is crystal clear, and you should not worry about misappropriation of funds when it comes to Smart Essay Rewriter.
Your thesis will get into the hands of a devoted professional. We distribute your orders between our editors with extreme caution. Since a thesis is one of the most important college works, we make sure that it goes into the right hands. If we happen to have recruits at our company at the moment, you should not worry that your document will end up with one of them. Only professional MA or PhD editors are allowed to undertake such a serious assignment.
We have a corporate principle of saying no to students among job applicants. We do not support this type of moonlighting because we believe that editing job must be handled only by experienced professionals. Those who only study the peculiarities of English academic writing can practice somewhere outside our company. Clients' satisfaction is more important to the Smart Essay Rewriter team than cheap workforce. Do you doubt if we achieve what we aim at? Well, visit our Testimonials page and see for yourself.
If you want to have even more confidence in the person who will work on your order, try out our paid "quality level" option that you will find in our order form. By choosing a premium or a platinum quality, you automatically spare yourself from any worries related to the final result of editing at Smart Essay Rewriter. We will edit even those excerpts that seem completely fine as they are, but can be at least a bit ameliorated by our professional touch.
We will follow your personal instructions. What is really appealing about our thesis editing service is that you can provide your editor with personal guidelines how you want the job to be done. This possibility will become extremely useful for those students who suffer from their supervisor's strict demands. Simply pass on all the requirements to our company, and we will do all that depends on us to leave you satisfied with the editing.
This may include work with stylistic features of your document, the manner of presenting your research, the structure of tables, diagrams and so on. Even in situations when you yourself are unsure how to perform the task right, feel free to contact Smart Essay Rewriter. Copy and paste your assignment to us, and we will first find out what it is that they want from you, and then we will do exactly as recommended.
We will work both on the content and the appearance of your document. Some companies have this strange attitude: when they improve your thesis, they pay attention only to one criterion, whether it is the research or the way it is presented. We know that both are important to your supervisor, that is why we will not let you make a poor showing. When your thesis edit order comes to our company, our editors do their best to improve all the aspects you can possibly think of:
vocabulary,

syntax,

structure,

formatting,

the front page,

references,

literature review.
We can additionally work on any other facet that you specify for us. The advantage of turning to our company, when it comes to ameliorating your thesis, is the necessity to pay only once for all the possible range of editing services.
Smart Essay Rewriter guarantees a refund for a poorly edited thesis. Poor editing already contradicts all the principles of our company, but if you claim that you happened to receive low-quality service from Smart Essay Rewriter, we will look into your case more carefully. In case the allegations prove to be right, you will consequently get a complete refund from us. It is the reason why we always try to come up to your expectations and deliver only first-class editing.
\So, Smart Essay Rewriter offers professional thesis editing help from experienced PhDs. Dealing with our company, you choose quality editing at reasonable, transparently calculated prices. Moreover, we offer individual assistance and are ready to stick with your specific demands that are coming from your professor or you personally. Smart Essay Rewriter will not attempt to make a fool of you, that is why you can expect the return of erroneous payments and a 100% refund for poorly done work. All these guarantees should persuade you once and for all that our company will be the best to suit your academic needs.