What Quality Thesis Revision Means to Us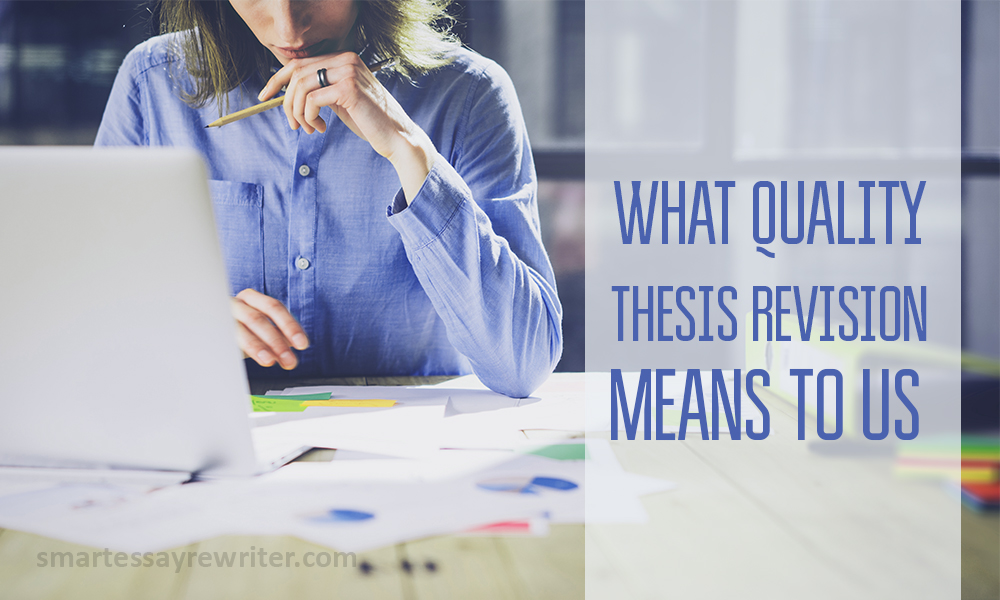 Being an online editing company, Smart Essay Rewriter has its own standards of quality works. The criteria are numerous when we deal with huge and important scientific texts, such as theses and dissertations. We want to make sure that clients will not regret sending a work to us, and everybody has the right to know how exactly writers and editors here cope with such orders. This article is meant to shed light on what quality thesis revision means to our academia research writers. After reading this post, you will not risk buying a pig in a poke anymore because here we share the main principles of rendering high-class services.
This article is organized in the question-answer manner. Here interested readers will find a set of questions we received from our customers, which we are only willing to answer. We do not claim that this post is all-embracing – if there are any further questions, the managers are at your service 24/7.
What is revision at all?
This website offers several types of writing services, and revision is only one of them. For those people who wonder what is the difference between them all, here is a quick guide.
Writing presupposes delivering a work written from scratch. We do not ask clients to provide us with any groundwork of theirs in case they settle on the writing service.
Editing is all about making sure that a written work does not contain any grammatical, stylistic or logical blunders. It includes formatting as well, and sometimes editors even work on the contents of your paper, deleting or adding some information.
Proofreading is aimed at making sure that the essay corresponds to the main academic criteria, but it does not imply doing a thorough job on the essay structure.
Finally, revision, which is the main subject of this article, means that professional writers will adjust the paper (in this case the thesis) to the requirements of the professor. Usually he or she would send the work back with comments on what to add, delete or change in any way. With our company, there is no need to do this on your own. Editors can manage this task efficiently and with the shortest possible delay. Be sure that we will expand and clarify each ambiguous statement from the thesis, and each theory will be explained in the most detailed way – if that is what the professor wants.
Will you give me a discount?
One of the most important factors in academic revision for us is the certainty that such kind of services is affordable to broad masses of students. The theoretic possibility of quality revision means nothing unless somebody orders it, right? That is why making our services affordable is one of our corporate strategies.
Making a huge step towards customers' financial satisfaction, we have devised a system of discounts that covers different classes of clients. Being about to place the first order, make sure to learn everything about price reductions for new customers. For the regular ones, there is a handy piece of advice from us: to subscribe to the newsletter not to miss any pleasant discounts. A huge one may await you right when you need to revise a thesis!
Who works on my orders?
Another point we find essential is the choice of authors who work for a company. It is them who are in charge of the final quality, so the HR specialists believe they cannot be too careful in choosing the staff. Every member presently working here had to pass a test that revealed the candidate's potential in academic writing and editing.
What is more, we checked their degrees to be sure that they will be able to manage specific tasks. Right now it enables us to divide the work flow at Smart Essay Rewriter efficiently. For example, an order in which you want us to revise a thesis will go to somebody who has a PhD degree. It is natural that this person will be able to fulfil this assignment with flying colors since he climbed his academic ladder this high.
When will I get my thesis back?
Our services are flexible in terms of deadlines. It does not mean that the writers deliver works back whenever feeling like it – on the contrary, we adhere to deadlines, but at the same time let each customer decide when they want their texts back. The most urgent orders at Smart Essay Rewriter start from 12 hours, but if you are going to send in a thesis, here is the advice the managers give to everybody. Try to stick with a more remote deadline, simply with a view to economy. Rush orders naturally cost more than regular ones, so selecting, for example, a week for this kind of work is a reasonable thing to do. It gives one more advantage to those students who do their assignments at the proper time.
What if I'm not satisfied with your work?
Not that these situations happen often at the company, but we have to provide for every eventuality. That is why each client is guaranteed a refund in case anything goes wrong on our part. Familiarize yourself with the full version of terms and conditions before placing an order because by doing the latter customers agree to the rules of our company. There we published information and detailed instructions what to do when writers' services do not meet your expectations.
However, both writers and managers from Smart Essay Rewriter believe that it is easier to solve such situations even before they emerge. Therefore, we encourage our clients to be careful with the wording when explaining to us what results they wish to get. Let's get to know the ways how to send in personal instructions in the next paragraph.
Can I communicate with my writer?
Yes, the website you are on right now has a special message box through which all the clients can reach our managers and pass on custom instructions to the writer. In case you have any, contact us immediately because otherwise we cannot guarantee being on time with the order. And please, be specific in demands; it determines the quality of the finished document.
But first of all it is vital to fill out the order form correctly. Since revision presupposes working on imperfections that the professor found in the thesis, students should attach the document with all the comments to the order. It spares the trouble of adding instructions afterwards, which in turn decreases the time it takes us to complete the order.
Now those who read this article know a lot about our revision services, but if it happens so that it is not what you need, check out other offers from us. While revision is only efficient when there are specific recommendations to follow, our thesis editing services will enhance the work if you are at a loss where to start. Order editing, and it is very likely that the professor will not require any revision at all. The services on this website are meant to simplify student life, what we have been successfully doing for several years now, and plan to do in the future.