What Is Important in Choosing a Paper Editor Online?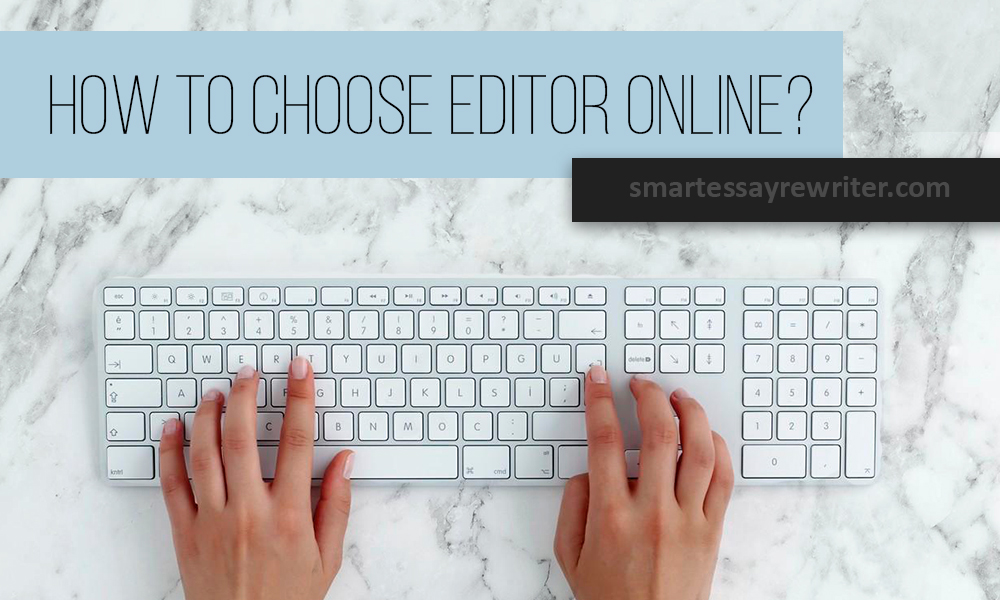 When you start looking for an online paper editor, you have to consider a lot of selection criteria: their rates, guarantees, deadlines and so on. All these factors are crucial because otherwise you may end up with a text of a poor quality or without any text at all. Previously we discussed essential dos and don'ts in working with editing services, but those tips apply only when you have fixed on a certain company. So, today Smart Essay Rewriter will dwell on important items on a check list of choosing an online editor. After reading this post you will be able to decide what company suits you best and whether our services can fulfill your needs.
Look through the price list. Checking the rates will probably be the first thing that comes to your mind. This information is really important because it determines whether you can afford the services or not. Smart Essay Rewriter offers a responsive price calculator, that is the table where you can enter input values, such as the desired deadline, type of work, type of service and so on. Eventually the price is calculated in real time, and you can track its changes depending on the options you select. It is easy to learn the cost of our services this way: you do not have to sign up or preliminarily attach your essay that needs editing. We give you time to think; first you learn the price, and then you decide whether to work with us or not.
Get familiar with the testimonials. Through the testimonials you can find out who the potential customers of a certain company are. Many online services have a narrow specialization: some of them offer academic writing and their main clients are students, others work with SEO articles and render services to webmasters. These are just the examples because editing services can be very versatile. So, how can testimonials help you? It is easy: find out how many people of your line of work have left positive feedback for a company.
Another detail you should pay attention to is the appearance of the testimonials. To figure out if they are real or not, look for the authors of the comments. Anonymous messages should put you on alert: maybe the company forged them in order to attract more customers. Also, do not believe the website if 100% of the feedback is 5-star. No matter how hard editing companies try to satisfy their clients, disputable issues are inevitable. The question is whether 5-star comments are prevailing at a company; if yes, it is probably a good choice. As for the testimonials of our clients, you can read them here. We hope that this page will help you make the decision.
Read the unabridged version of terms and conditions. The first vital thing is that a page with terms and conditions must be available on a website that renders editing services, as well as on any other service-offering website. This is an official document that outlines the range of rights and obligations of a company. It is also the supreme authority in resolving possible conflicts with customers because each of them inevitably agrees to the terms and conditions when placing their orders.
That is why you should not believe the promises of a company unless they are backed up with an unambiguous paragraph in the terms of use. Be especially careful when reading about refund policy as this is your chance to return your money for services of a low quality. Thus, Smart Essay Rewriter promises to issue a refund to those customers who received an off-grade text from us. If this is the case, you should contact us in 14 days after the delivery of your order and leave a claim to a refund. We will issue a compensation if you did not receive the services you paid for through our fault.
Find out the shortest and the longest deadline. We draw your attention to this criterion because your needs may differ from order to order. For example, on one occasion you may need the fastest service possible because you have only one night left to deliver your essay or paper. In this case you cannot afford a deadline remoter than 12 hours. On the other hand, you may find yourself in a situation when the deadline no longer matters, but you want to save up as much money as possible. Here you can choose the longest deadline and enjoy the services at the lowest prices.
Smart Essay Rewriter is ready for any situation. Our deadlines, which you can choose on your own while placing an order, vary from 12 hours to 2 months, and the cost changes in accordance with your choice. It enables you to order from us both urgent essays and huge dissertations, saving time or money as you do so.
Try to contact the managers. This step may seem unimportant unless you really have questions to ask, but it is not so. This one is a sophisticated life hack that will help you avoid scams. Think of any question that you can ask in a contact form, type it in and wait for an answer. The thing is that swindlers often do not bother to hire a management team; therefore, if you do not get any reply in a day, you probably came across a shady business. An honest company, on the contrary, will provide you with the best service possible, and all your questions will be answered in no time. Try it out with our website!
Now you know how to choose a reliable paper editor online. The company should openly share its pricing policy, customer testimonials and official terms and conditions. All of the above mentioned is present at our Smart Essay Rewriter website. If you agree that our editing and rewriting company is what you really need, we are looking forward to your orders. Keep in mind that we have a large discount for our new customers: you can get 20% off when placing your first order! Feel free to contact our managers to clarify any further details.