Dos and Don'ts in Working with Our Essay Editing Services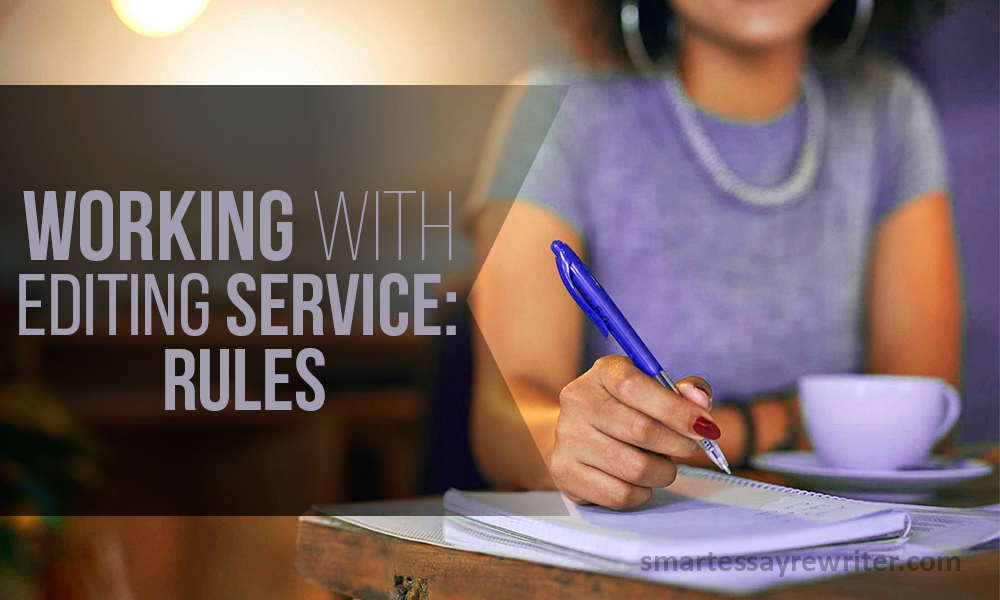 To facilitate your life, the Smart Essay Rewriter team has prepared a bunch of tips for you on how to work effectively with our essay editing service. Following this advice, you will be able to save your time and money, still receiving the best result possible. The post will come in handy for both our new clients and the regular ones, so get ready to digest everything you will read here and then try it out in practice. We will start with what you should do and then continue with everything you had better avoid.
Provide us with your valid e-mail address and telephone number. You may think that giving us fake personal details boosts your confidentiality, but actually it only prevents us from sending you relevant updates on your order. Taking this step, you are likely to miss our notification when your order is completed or messages from your editor in the process of his work. If you do not want to receive our newsletter, we recommend you to click the appropriate button, not to type in the wrong e-mail.
Place your orders beforehand. This sounds really banal and hackneyed; even popular wisdom claims that haste makes waste. But there must be something in these words since they have existed in our speech for centuries. When you want to get an edited essay from our company, placing your order in good time gives you two benefits at once. First, you have enough time to work out any discrepancies between your needs and the work of our editor or even claim a refund in case anything goes wrong. And you would not have to worry about the approaching deadline to submit your essay to the professor. Secondly, setting a more remote deadline for your order will lower the cost of our work. It means that when you order our essay editing services in advance, you kill two birds with one stone.
Carefully write the instructions for our editors. Your instructions become the higher authority for our editors as they pull out all the stops to leave the clients satisfied. You can opt for a specific type of formatting, referencing style or structure for your essay, and we will gladly stick with your requirements even if they differ from the established rules of academic writing. That is why your clear and unambiguous guidelines are paramount – they move you as close to the perfect essay as possible.
Try to pay for your orders right away. Please note that our editors start working on your text only after receiving the payment from you. It consequently means that the count-down to your deadline does not start until we get the money from you. It often turns out a tricky issue as you may think the count-down starts right after you place an order. So be careful with this: paying right away saves your precious time and ensures that you get your edited essay back as soon as possible.
Contact our managers in case you have any unresolved questions. Our managers have a deep insight into the work of our company, that is why they can offer professional advice on various issues. If you are unsure how to place an order, pay for it or choose an appropriate service, fill out our contact form or simply reach one of our managers through the chat box. You can also turn to the support team to clarify the status of your order, especially when you get nervous at the approaching deadline. Our managers are trained to answer your questions quickly and to the point.
Now we will move on to what you should not do while working with us. Regard these as friendly tips from the company that cares for its clientele.
Do not try to save up some money by making the font smaller. Our prices are calculated on the basis of a standard page, but we also take into account the number of words. That is why the text of a certain size will cost you the same sum of money, no matter what font you choose for it. Trying to trick us like that, you will only end up spending your time.
Do not wait for too long if you want to claim a refund. This is important because you have only 14 days to request your money back. That is why we strongly recommend you to check the document right after the delivery to make sure that you are satisfied with it. If you accidentally placed several identical orders, you have to act even more quickly. Our manager can solve this problem and transfer all of your money back if you turn to us within 12 hours after the payment. Otherwise, we would not be able to issue a refund.
Do not try to forge your identity. This idea can come to your mind of you are a diligent student and afraid that your university will find out that you use our editing services. Smart Essay Rewriter assures you that there is no need for such precautions. Our website guarantees complete confidentiality, and we will never share your order details with third parties. But if you try to forge your identity or to use somebody else's credit card to make a payment, we will have to report such issues to the law enforcement bodies. Do not tempt fate and remember that our company always accepts you for who you are!
These professional tips from the best essay editing service should help you in further cooperation with us. It is always easier to work with a company when you know for sure what approach you should choose. So, right now you know that Smart Essay Rewriter recommends you to place your orders in advance, choose the right wording for your instructions, proceed to payment right after filling out the order form and request a refund from us as soon as possible, in case of need of course. You are also advised not to forge your identity or manipulate with the looks of your text with the intent to reduce the cost. And do not forget about our support team who is always ready to give you a hand! All these tips will help you get the best from using our website.