Proofreading Services Online: How To Become A Proofreader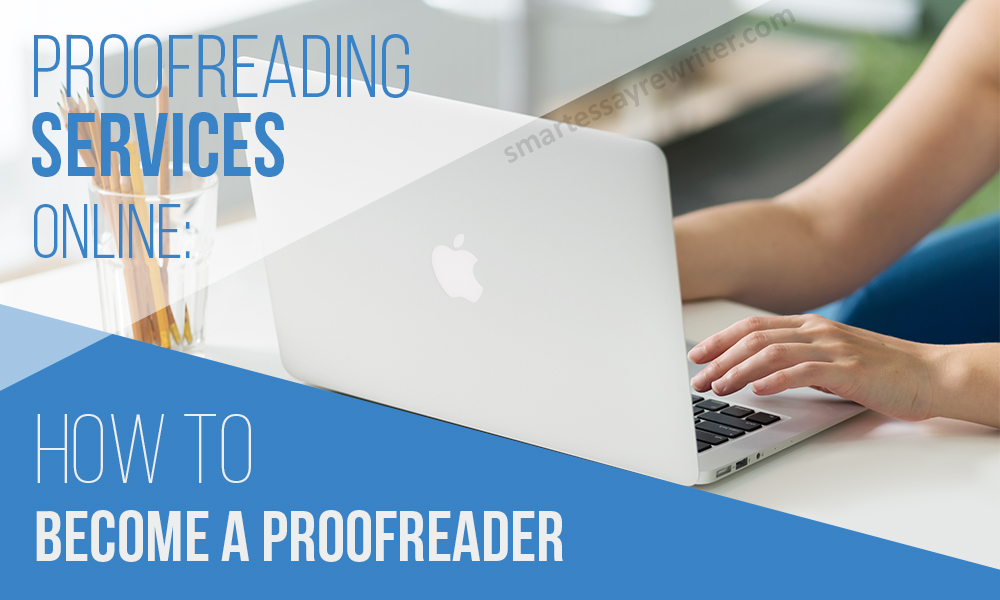 Being a proofreader is not an easy job, you have to be well-educated, have a good understanding of language and excellent writing skills, have an eye for detail and be very plodding. If you think you have all of the right qualities to become a proofreader, this essay will help you with it. Nowadays there are a lot of websites that need help in identifying any mistakes in their content, which creates a lot of opportunities for online proofreading services and freelance proofreaders. So here are some things that you can do to become a proofreader.
If you want to edit or proofread your essay, you can check an amazing website that offers editing services online and will provide you with a quality work.
Start with developing your proofreading skills
Are you a well-read person? If not, you need to become one. Proofreaders have a deep feeling for reading. Reading different genres can help you to get accustomed to different writing styles as well as gain an extra knowledge of various subjects.
Being a proofreader requires you to have a proficient knowledge of grammar and punctuation. You have to be able to recognize words confusions and spell them correctly. Also, you have to understand what the writer is trying to say.
There are some editing and proofreading tools that can help you. Microsoft World has special features, like Track Changes and others. There are two ways how you can access a file you would need to proofread: you either receive a link on the website itself, where you will edit a text directly, or you will be sent a text to your email. To use editing tools you need to have good computer skills, moreover, some companies can require you to print the text, proofread it and edit it by hand and send it back by fax, so you also need to have a good knowledge of fax and printer.
Consider finding some courses, additional education or training in subjects like literature, English language, and journalism. They will build a strong foundation for your proofreading skills. You can find free courses online, there are a lot of platforms that different universities use to offer free or certificated courses.
If you are planning to work for an organization, they usually create their own style guides, but you have to familiarize yourself with the most popular ones, like the AP Style Guide, which is used by many websites and most newspapers, or the Yahoo Style Guide. It would be also advisable to read a book by William Strunk and E.B White called "The elements of style".
Depending on the clients you would like to work with, you should acquire specialized dictionaries, for example of medical, science or financial terminology, as well as English dictionary and thesaurus. Try to find any useful websites online and bookmark them, one of them should be Dictionary.com.
Practice your skills every time you read something. Train your critical eye by looking at the newspapers, websites, books, text that appears on TV and try to see if there are any errors or mistakes.
Find a job that will allow you to provide proofreading services online
Choose one aria that you are interested in, whether it is a proofreading in medical or finance or any other field. Some areas can require a special training, but it is better to be a good specialist in one area that a mediocre one in several.
You can find jobs in proofreading sector using the Internet, just type in your request and choose a company you want to work for. You may need to register on a website or post your services information on the job boards. Some websites are specializing in certain areas, like business, others offer services in transcription, choose the one that you think you are most likely to succeed in. Remember, that most companies will require you to take a test in order to work for them, sometimes 1 or 2 years of experiences can be also required.
You can try yourself in the freelance world. For that you would need to find a website for freelance proofreaders, register there, usually take a test and bid with other freelances for a job. If you decided to use a job board, you will need to post your resume, qualifications, and work experience and search for jobs that you find interesting.
Another way is to contact website owners directly by email or a phone and ask them if they have any open positions.
You can also create a website for yourself. For that you can hire an IT specialist or do it by yourself, if you have a background in web design. You also need to have SEO skills to help your future clients find you online.
You can consider becoming a volunteer and offer your proofreading services for free. This way you can build your reputation and train your proofreading skills.
Useful tips
Join a group of editors or proofreaders, they can offer you some advice and you can share your experience of working with words with other members.
Remember that proofreaders do not usually earn much, especially if they are just starting, so you might want to consider offering other services like re-writing or editing.
You cannot be guaranteed a job if you register on freelance proofreading websites because clients there are looking for a specific set of skills, so in order to get more jobs you need to learn everything that a good proofreader need to know.
Before starting, make sure that you have all of the tools, such as a computer, printer, fax, email address, phone number, spell-checking and word-processing programs and constant access to the Internet.
This is everything you need to know to become a proofreader. More interesting topics you can find here on an essay editing website where you can edit your essay for the best price.