Article Rewriting Service from Our Company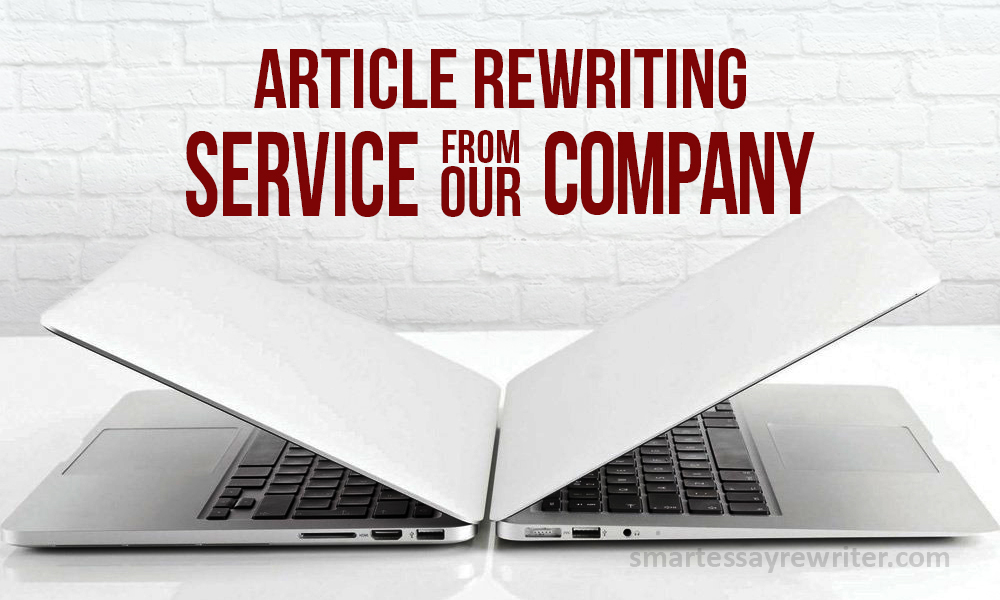 Articles that get published on the Internet rarely bring many unique visitors to the website if they have not been processed by professionals beforehand. In many cases they lack quality in terms of grammar, logical structure and the uniqueness of the text itself. Do not worry if you recognize your own problems on the list because in this post we will let you know how to solve them almost in no time. Article rewriting services from our team of rewriters will enhance your text before it appears on the web, which considerably increases the number of views and therefore the popularity of your site.
Grammar issues
Trying to produce a valuable piece of information for readers (or a carefully concealed advertisement), copywriters sometimes forget to check their masterpieces for mistakes and typos. What is more, these blunders often go unnoticed by readers, too; at least they rarely try to find imperfections on purpose. But when they do catch sight of mistakes, the reliability of your website drops immediately – who would want to trust a website that tries to economize on quality content?
Smart Essay Rewriter can easily rewrite the rough copies of your articles and eliminate all the mistakes in them. In the end you will get a document that is absolutely free of grammatical blunders. This also includes misprints that were overlooked by the author in the process of final editing.
Please keep in mind that we will not change the style of your text unless you ask for it specifically. We acknowledge that each website has its own writing preferences, whether it is a formal, semi-formal or informal style. But we will make your text consistent so that the style of your choice appears everywhere throughout the document and does not get mixed with other styles.
Plagiarism in web articles
Plagiarism concerns not only academic editing services, as you could have assumed by reading our previous posts. Yes, we write a lot about it because in the world of academia plagiarism issues can get you expelled. But there is no reason to think that you can get away with it when publishing online. Articles copy-pasted from different sources will not play into your hands when it comes to search engines; on the contrary, they will make you drop down in search results.
What we offer is complex article rewriting that will eliminate the possibility that Google, Bing, Yahoo and other engines find the same text excerpts that you published on your website. By rewording and rearranging parts of your article, we will create a completely new one that will be seen as unique by search engines. When doing this, we also pay attention to how the text looks like for a human eye because your visitors must be able to grasp what you are talking about. Thus, you get a unique article, but not at the expense of contents.
SEO-related problems
SEO is yet another important detail to help you top search results. When your article is rich in keywords, but still does not present any difficulty for reading, you can say that you achieved the golden mean. Any deviation from it will not do you good: a lot of SEO will make the text unreadable, while the lack of it will become an obstacle on your way to being one of top-10.
Some writers believe that you should only write quality content, turning a blind eye to keywords and other technical details. Presumably, a reader will find its article anyway; if he is really interested in the topic, that is. However, we do not see a way in which it can happen: how is the reader supposed to find the article if his search engine fails to do it? Smart Essay Rewriter encourages you to be reasonable and not to let things take their course. You are the one to determine the fate of your Internet resource, and the shortest path to income runs through professionals in any case.
Improvements in structure
One more thing that we are willing to dwell on is structural enhancements. Article rewriting from our company ensures that your readers get the main message of the text straight away. They will not have to read it twice or visit your competitor's website to learn the information they need.
Unfortunately, it often happens so that content managers fail to present crucial details in the right order. It leaves readers confused and uncertain about their choice of website. Smart Essay Rewriter will make it crystal clear what the objective of the article is; moreover, we will present the information in a way that will be the easiest to comprehend.
Thus, we will make sure that your article starts with a short introduction that does not exceed one, maximum two paragraphs in length. Longer introductions tend to tire readers out and make them scan the text through right to the main part. In the worst case, they leave the website immediately; but this is not going to happen if you choose to work with our company. Then, we will work on the main part of your article, checking that necessary transitions are made between different thoughts and that the logic of your statements and arguments is not broken. Last but not least, our rewriters will improve your conclusion. This part is of a great importance in articles that are directly aimed at selling certain goods or a service. We will see to it that your readers are willing to place an order after finishing the article.
As you see, article rewriting can solve a lot of problems if you are trying to promote your website. While learning all the details on your own will take up a lot of valuable time (and applying your knowledge in practice may take even more), there is a reasonable alternative. Entrust this task to professional rewriters from our company, and they will ameliorate your text in several aspects at once: improve the grammar and the structure, deal with plagiarism issues and optimize your article by adding just the right number of essential keywords. Try out our service, and see for yourself how your charts will go up.