What Proofreading Companies May Hide from You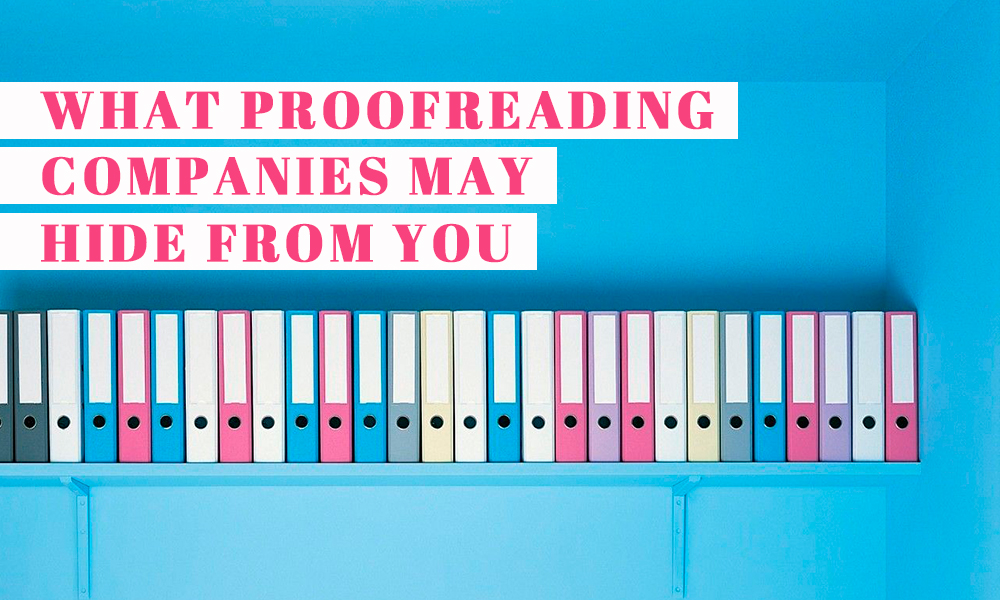 People who have to deal with a lot of text information, as a rule, find it hard to manage all of it on their own. They feel the need to turn to professional proofreading companies, which is quite natural. However, many clients have no idea how many pitfalls may await them. Companies may do nearly everything to make profit, while you may swallow the bait and find yourself in an unpleasant situation. Here our academic proofreading services will share with you the life hacks of detecting online proofreaders who withhold vital information from you.
Hidden charges
Read terms and conditions attentively to detect any additional payments the company tries to impose. It may work in several ways, each of them being unfair to you:
The rates given in a table of in the form of a price list differ from the ones you actually have to pay for your order. This is the most blatant lie of all; such services simply do not have any respect for their customers.

In the process of proofreading the company suddenly acknowledges that there is much more work that has to be done about your essay than they originally expected. That is why they ask you to pay more.

You get to know about hidden charges before the delivery. For example, you cannot download the proofread document unless you pay some extra money.
Each of these methods seem outrageous to us because at Smart Essay Rewriter we respect our clients, and therefore we do not feed erroneous information to you deliberately. All the prices calculated on our website reflect exactly the sum of money you have to pay for your order. What is more, we set the prices in accordance with the number of words in your document, which leaves to room for further machinations with additional payments for more pages.
Lack of experience
Some companies are given to employing undergraduates or people without higher education at all. In this way they can save up a lot of money because normally you would pay as for a quality service, but what you get instead is an essay proofread by an amateur. Smart Essay Rewriter has a strict policy against working with unexperienced employees. You can be sure that:
We employ only those candidates who have an academic degree, no matter in what field of studies. Each college major can bring a lot of additional subjects for our company to work on.

All the eligible job candidates have to pass a test in order to get employed. The test includes the check of grammar knowledge and writing a sample college essay. We pick out only those people who do their assignments without mistakes. But even if errors do crop up later on, we feel no guilt about saying good-bye to these employees.

Our proofreaders are interested in delivering only quality papers to you because their salaries depend on it. Feel free to demand only the highest quality from us as this is what you pay for.
Another thing is that some editing companies have little or no experience on the market. They were founded only recently and, after browsing through major similar services, decided to establish exorbitant rates as real professional have. It is completely different with Smart Essay Rewriter. We have been on the market for several years; we have a good record, which is proved by numerous positive testimonials from our regular customers. What is more, we hold back our prices. Our company is extremely loyal to you in terms of giving out various discounts. When you order from us, you can be sure that you have found one of the cheapest services on the Internet.
Variable deadlines
The phrase itself – variable deadlines – sounds as an oxymoron to those familiar with literary criticism. In other words, it is a conjunction of contradictory notions, which actually should not be put together in a phrase according to the laws of logic. However, some proofreading services believe that it is OK to make their customers wait more than originally promised. It is a horrible attitude, especially when a company works with students, because you cannot explain your professor why exactly he has to wait for an essay for several more days.
In order to clarify our approach to meeting your deadlines, we have prepared this list of situations in which Smart Essay Rewriter can extend the deadline set by you. Read it carefully and keep this information in mind when you are about to place an urgent order.
The countdown to deadline starts only after we receive your full payment. The time of placing an order per se makes no difference here.

If you provide your proofreader with essential instructions in several hours after the payment, the countdown starts after we receive the last of them. It is true for those vital instructions without which our professionals simply cannot begin to work on your document.

The deadline can be extended if you fail to answer questions from our proofreaders or managers in time. In this case the work on your order may be paused.

When ordering our services, you can be sure that you will get your paper back before the deadline comes or, considering the above-mentioned situations, no later than 12 hours after the deadline.
Proofreading based on a single template
Not all companies find it necessary to request personal instructions from their customers. But it is the only way one can produce a custom essay. When using a single template for all works, a company will not be able to meet the demands of your professor. A lot of factors should be considered to make a quality essay, and the major ones of them include information about a citation style and your personal instructions. That is exactly what we offer at Smart Essay Rewriter, following the famous proverb: all bread is not baked in one oven. We adhere to your personal needs, which allows us to deliver a truly custom essay to every client.
We hope that this post from our professional writing services was able to reveal a lot of tricks online editing companies tend to use on their clients. Now you know how they can play with your time and money, but you also know that there is a company on the web that respects your rights and does everything to deliver essays of high quality. Smart Essay Rewriter has a fixed policy that protects your rights from incompetence or negligence. If you happened to have any issues with the result of our work, feel free to contact our managers, and we will solve your problems in no time.
Professional online writing company knows the solution to your problems.
Undoubtedly, everything connected with the writing assignments is very difficult. It is necessary to understand the subject and at the same time be able to clearly express the thoughts on paper.
Moreover, it often happens so that you get used to the text and do not notice the inaccuracies or mistakes that were made. The most logical decision in this situation is to seek the help of professionals, the people who know and are able to write high-quality texts. It happens that after dissertation writing, you reread it and understand that it is far not perfect. But you do not know how to correct inaccuracies.
Some seek help from friends or relatives. But this is not the decision of the problem.
Whatever difficulties may arise, it is always easier to solve with the help of a professional. Maybe you do not have enough time. Perhaps you managed to write part of the task but completely confused on how to finish it. Maybe the professor gave your work for revision. Perhaps plagiarism was found in your work. There are hundreds of reasons why you may need help with writings. Do not quit and do not panic. Just relax and contact the professionals. Our team of top paper writers guarantees excellent results. The best essay writing site can rewrite part or all of the text as well as we can write a new one. We will check the grammar, punctuation, stylistic issues as well as plagiarism. However, the idea of your work will certainly remain unchanged.
What is especially important? This is the fact that making an order on smartessayrewriter.com is very simple. You just need to take a few steps and make a few clicks for your order to be accepted. Half of the work has already been done. After all, you have visited our site and now you know where to find a professional. Another great news is that even a student can afford our service. Just clarify the information on the task and at the bottom f the form you will see the price you need to pay. Our pricing policy is quite simple and clear. If you still have any questions, please contact us. We will be happy to answer all of them.
If you are looking for a combination of high quality, professionalism, and easy cooperation, do not hesitate to contact us.
An indicator of the high quality of our services is the fact that the number of our customers is rapidly growing. We also offer a flexible system of discounts for constant clients as well as for the new ones. Remember that our service was created in order to make your educational life at least a little bit easier and not so complicated. It is high time to try. Do not wait, act! We are absolutely sure that you find everything you need with the help of our service.