Our Secrets of English Editing and Proofreading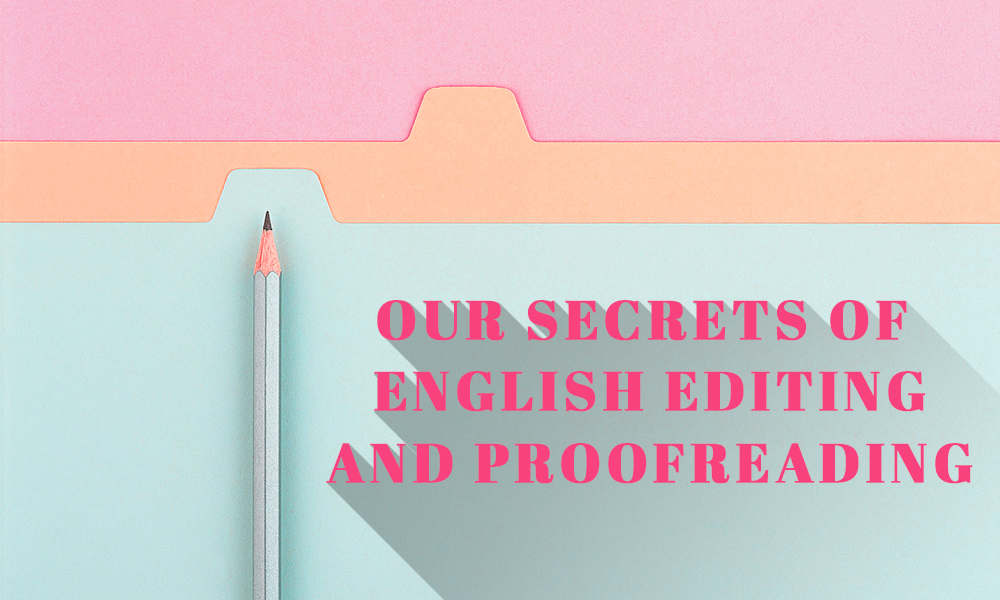 Each editing company has its own secrets of delivering quality results. Of course, having experienced assignment writers comes first in the long list of requirements. But even so, there are some secrets that, when combined together, can give you an excellent essay. Today we will share them with you. Maybe by using these tips you will come to grips with the principles of English editing, proofreading on your own. It will be just fantastic if this advice works perfectly for you as it does for us.
Look for misprints and correct grammar mistakes after finishing the document.
Actually, that is what we always do when performing editing or proofreading for you. You send us your papers after completing them, so we work only on finished documents. The reason for this advice is simple: when you are in the process of writing, you direct all your efforts towards creating quality content. You develop different ideas, try to find some links between them and organize your writing in the best way possible. But when this work is already finished, you can give your undivided attention to other aspects, such as correction of mistakes, formatting and others. It is only logical that you do not try to do more than one task at a time.
Find out whether all the ideas in your text are relevant for the essay topic.
Some students tend to go on a writing spree and become too wordy. Do not misunderstand us: it is great when you have something to type in your essay, but at a closer look a lot of information entered that way may turn out irrelevant for the topic of your work. Abstract narratives and lyrical digressions are good for works of fiction, but there is no room for them in your academic writing. You must be precise and reliable in most cases of writing for college, probably with only some exceptions; for example, the requirements are less pressing when you are writing an admission essay or a paper about your personal attitude towards something. But even in this case you cannot simply rely on your emotions; you have to substantiate them at least in some way.
If you take into consideration all the above-mentioned, it becomes clear why in the process of editing our professionals sometimes decide to delete certain excerpts from your work or even to add something to it. Not all the text in your document may be 100% relevant, but it definitely will be if you choose our English editing service. After our professional touch your essay will be just to the point, and your professor will be delighted to read a really decent academic work.
Compare your formatting style with that officially approved for academic writing.
You may have your favorite font or paragraph style, but it does not mean you should use them for your essay. The guidelines here are strict, and you do not want to ignore them if you are aiming at a good grade. Since academic English has several referencing styles, the first thing you should do is to read more about the one you need. Then you can start adjusting your document to it.
That is exactly what we do at Smart Essay Rewriter when working on your order. However, there is one exception for us. Our editors already know by heart all the requirements they have to stick with, so it takes us much less time to adjust your paper to them. When you entrust us with your academic writing, you can be absolutely sure that it will be formatted just like provided.
Cut down lengthy sentences and structures.
When after finishing an essay you read it to yourself to check the style (and yes, that is what you absolutely have to do each time), make a point of cutting down bulky sentences and grammatical structures. There are several reasons for that:
Lengthy sentences are difficult to comprehend, that is why you take a risk that your professor will not understand what it was you wanted to point out.
If you squeeze in a whole lot of grammatical structures into one sentence, you increase your chances of making a mistake there. Generally, the simpler you write, the less errors will occur in your text.
When writing long sentences, it is pretty easy to lose your train of thoughts. So if you cannot find it anymore in the process of rereading, then you should definitely split your sentence into several smaller ones or simply shorten it.
Our editors and proofreaders too try to transform your lengthy sentences into shorter ones. It is a reasonable step even if we completely understand what you wanted to say. Believe us: several concise sentences always win as compared to their bulky fellows.
Include reliable sources to substantiate your point of view.
Since academic writing rarely goes without citing the sources, Smart Essay Rewriter has developed a whole system how to insert appropriate quotations throughout your essay. Thus, when you send your paper for editing we check your sources with regard to the next criteria:
how relevant the topic of the source is for your area of studies;
to what extent the source is reliable (you must know by now that citing Wikipedia, for example, will not do you any good at college);
whether you managed to format your citation right, according to your referencing style (this aspect coincides a bit with the formatting that we talked about before).
So, if you are eager to proofread your paper on your own, we would recommend you to follow these very criteria too.
Now you know several essential aspects of our editing and proofreading services. Even if they do not come in handy for you, you will have to doubts as to what exactly we do to your essays when they come in for editing. You can be sure that every step mentioned in this post will be applied to your document, which will eventually create a quality custom academic essay for you. Our service stands out for our willingness to fulfill the wishes of every client, that is why we are always ready to hear your feedback or recommendations. You are welcome to contact our managers at any time to deliver your suggestions or to ask more questions about our services.