FAQ About Our Essay Editing Services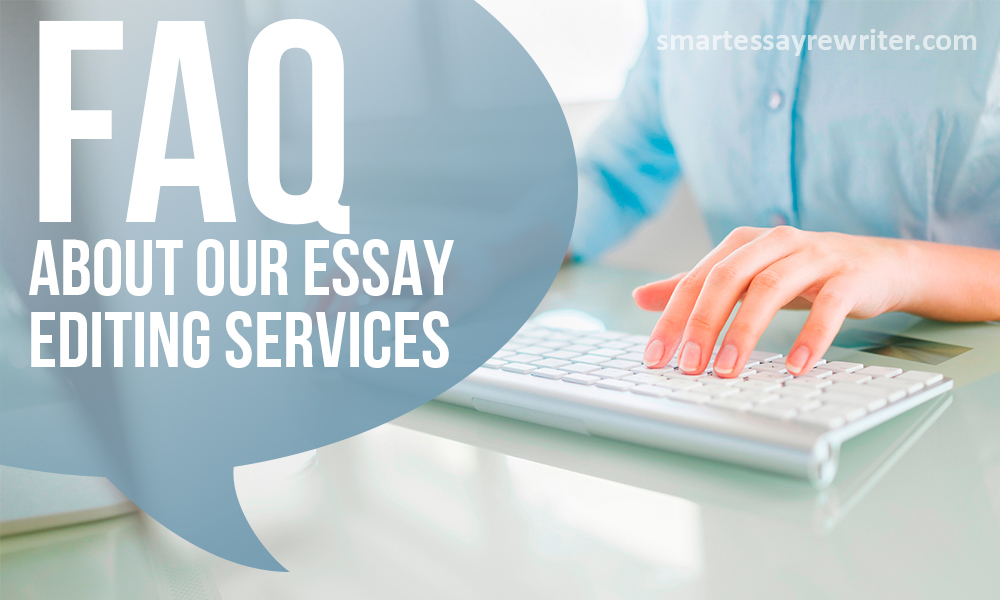 This article will shed light on the main principles of our job. What Smart Essay Rewriter offers is quality online essay editing, but there is much more to that. We have developed our own policy that helps us deliver only top-notch content. Our clients often wonder what is so specific about it. Here you will learn more about our guarantees and also take a look at several tips from our company.
How to choose the best essay editing service on the Internet?
Obviously, the first step before placing an order at an editing company will be to choose this company among many others on the web. Thus business seems so lucrative that you will inevitably stumble across a bunch of websites offering such services. But do not rush into ordering! First of all, you should check whether you can trust your company. Smart Essay Rewriter meets all the criteria that you can possibly think of when choosing a college essay editing service:
We have years of experience that ensure a deep insight into the editing job.

We do not hide our editors from you: you can get familiar with their names, faces and academic degrees right on our main page.

We stick with a transparent pricing policy, accessible even without logging in.

We gather statistics of our orders, which speak for itself. For example, nine customers out of ten return to our company to place another order. You can as well learn other figures on our website.

We stick to our money back guarantee, which helps our new customers place their first orders without worrying if they have made the right choice.
Who works on customers' orders in your company?
Smart Essay Rewriter can boast a team of highly skilled writers and editors, each of them a holder of an academic degree. We do not accept strangers into our company because your satisfaction is our top priority. Whoever works on your order, you can be sure that this person will do his job perfectly. Here is a set of requirements that we have for our employees:
a higher education, starting from a bachelor's degree;

perfect academic English free of grammar, spelling and stylistic mistakes;

the ability to follow strict guidelines and accept criticism;

the readiness to work extra hours to deliver urgent orders on time.
As you see, we have a team of devoted professionals, but also of people who are personally acquainted with the specifics of academic writing. Having got their own degrees, now they are willing to help you with yours.
Where can I find the price list?
Our prices are calculated automatically for each order. However, Smart Essay Rewriter has no intention to hide them from the customers. You can use our price calculator even without placing an order, just to take stock of your resources and find out whether you can afford the service you need.
Please pay attention that we offer such a wide range of services that it is virtually impossible to make a table with the range of prices. That is why we suggest that you enter the details about your order in our calculator (you will have to choose an appropriate option for 7 fields, including your academic level, deadline, number of words and so on), and after that you will be given the total cost for your order. We do not ask you to pay any additional fees or charges; on the contrary, our clients can use our discount system on which we will dwell on right now.
Can I make use of any discounts?
Yes, all our new customers are eligible to a 20% discount for their first order. What to do if you are a returning client? The easiest option is to subscribe to our newsletter, which gives you the opportunity to be the first to learn about our discounts in effect. Coupons will be delivered right to your mail box! Alternatively, you can contact our managers to get to know what price reductions we have in store personally for you.
How can I pay for writing or editing essays?
Your payments to Smart Essay Rewriter are completely secure; what is more, we give you the right to choose out of several payment methods:
MasterCard/Visa,

PayPal,

American Express;

Discover.
We do not share your payment information with anyone, but the system allows us to issue a refund in case of need without any troubles.
What guarantees do you give?
The most explicit document that registers all our guarantees and terms of work can be found on the terms and conditions page of our website. To put it briefly, our essay editing services work in accordance with the next guarantees:
delivery on time;

a paper that is sure to pass plagiarism tests;

full confidentiality, which means keeping your personal information away from any third parties;

an essay or article that meets your personal requirements;

prompt feedback to your messages addressed to our managers or writers;

free revisions and also refunds about which you will learn in the next paragraph.
How to claim a refund in case I am not satisfied with your work?
According to our terms and conditions, you can get your money back in case our writers fail to complete your order at all or in accordance with your instructions. It also applies to delivered documents that have more than 10% of plagiarism. You have 14 days to claim a refund from Smart Essay Rewriter, and you are sure to get it provided you suffered through our fault.
We hope that this article could clarify the main principles of our editing and rewriting services. Smart Essay Rewriter has a corporate policy that places customers' interests above everything else, that is why it is so beneficial to order services from our online company. If after reading this post you still have questions, feel free to ask them using the contact form on our website. Our trained support team is ready to provide you with all the details you need to know before becoming our client.